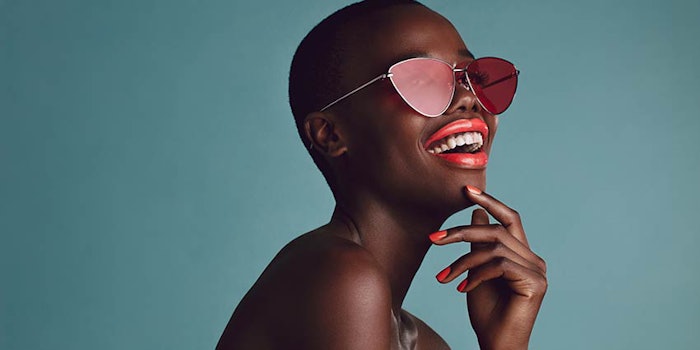 Beauty Accelerate Virtual 2020 will explore the industry's "new normal" Nov. 2-5, 2020, and provide attendees with the knowledge and tools to thrive and innovate in a changed world. Registration is open.
Sponsored by Global Cosmetic Industry and Cosmetics & Toiletries, this collaborative forum for beauty marketers, founders, executives, R&D managers and cosmetic scientists will deliver virtual presentations on business and brand strategies, emerging technologies, and market data, as well as live Q&As and intimate roundtable discussions to share further insights.
Attendees can review the full schedule and register for all 4 days of Beauty Accelerate Virtual for $49 until October 6, 2020 at 11:59 pm CST.
1. Wellness Meets Beauty
In a high-stress year, the intersection of consumer well-being and beauty is more powerful than ever. A range of talks will address top opportunities in the sphere. 
"Feel-Good Beauty," a panel discussion featuring Stephanie Morimoto (Asutra), Michael Bumgarner (Cannuka), Eva Goicochea (Maude), Beatrice Dixon (The Honey Pot Co.) and Priscilla Tsai (cocokind), will discuss the ways in which brands are expanding the benefit proposition of beauty—from sleep to stress to hormonal and sexual wellness.
This panel of brand leaders will discuss the power of well-being-powered brands in unprecedented times and will conclude with a live Q&A.
In "Harnessing the Endocannabinoid System for 'Wellness Cosmetics': CBD 2.0," Lex Pelger of CV Sciences will discuss the role of the endocannabinoid system in the skin, what's known of CBD's effects and other endo- and phyto-cannabinoids that may be used in the future.
Product developers will be inspired with novel chemistries and pathways to craft wellness cosmetic experiences. Marketers will gain exposure to alternate realities for new iterations of this booming sector.
Russ Walters' (Somn) "Sleep and Beauty" will review the overlap between sleep and beauty, including emotional well-being, lifestyle choices, circadian rhythms and more.
In "Re-Imagine: Care + Wellness in a Post-COVID World," Jennifer King and Susan Sperring of Symrise will address the ways in which COVID-19 has challenged the way we live, interact and behave–inside and outside our homes.
As consumer needs for beauty and self-care have amplified, they argue, "Re-Imagine" explores post-COVID-19 beauty care trends, three "codes of wellness," and ingredient solutions and creative concepts addressing increasingly prevalent and likely enduring behaviors.
2. Beauty Retail Disruption
E-commerce boomed amid consumer fears and regional lockdowns, forever reshaping retail. Beauty Accelerate Virtual explores a range of implications.
"Beauty Retail Post-COVID-19," featuring Kristian Edwards (BLK + GRN), Annie Jackson (Credo), Larissa Jensen (NPD) and Ellen Friedman (RPG) will discuss the ways in which COVID-19, Black Lives Matter and conscious beauty have reshaped beauty retail.
Our experts will discuss the boom in e-commerce, brick-and-mortar changes and best practices, the enduring power of sustainability, shifting consumer needs, and increasing representation among BIPOC-led brands.
Meanwhile, in "3 Keys to Amazon Beauty Growth of 30%+" Denny Smolinski of beBold Digital will reveal three keys to growth on Amazon that will set brands up for success during and after the pandemic.
Smolinski will argue that implementing these changes and will drive steady growth, month over month, with Amazon's Flywheel. In addition, this talk will explain how to optimize Amazon listings, explore Amazon's Flywheel and help brands crush the competition.
3. Sustainable, Clean & Conscious Beauty: the Future
Between increased consumer demands and emerging technical innovation for sustainable and clean formulations, conscious beauty is on the rise.
In "Mission-Driven Beauty (Part One)," Mike Indursky (Hear Me Raw) will discuss the practical considerations behind implementing a responsible brand ethos in product development.
In addition, the beauty veteran will review the Hear Me Raw mission, how the mission aligns with the market, implications for formulation/ingredients (clean and sustainable materials) and implications for packaging and his business model (refillable system, direct-to-consumer).
Indursky will join a panel of brand leaders in "Mission-Driven Beauty (Part Two)," featuring Yve-Car Momperousse (Kreyol Essence), Karen Behnke (Juice Beauty) and Dr. Christine Martey-Ochola (Nuele).
These leaders will discuss the ways in which value-led brands mean more than ever amid the convergence of sustainability, social justice and the impacts of the COVID-19. The panel will also address the impacts of the tumultuous year on their brands as well as their long-term strategies.
Colin Barrow, Ph.D. (Deakin University) will present "Blue Biotech and Beauty: Potential Untapped Resource," which will explore the application of sustainable microalgae for anti-inflammatory, anti-aging, sun protection and other skin health benefits.
Jim Perry (TaikiUSA), meanwhile, will present "Waterless, The Next Revolution in Beauty." Perry will discuss the benefits of removing water in beauty products and discuss solutions to achieve effective results.
Eileen Zhang (Hallstar Beauty) will present "Innovations in Clean, Effective and Safe Sun Care," which will show how to balance clean sun care with the need for efficacy, safety and a pleasant user experience.
Photostabilization, combined w/biomimetic naturals, can "greenify" the photoprotection package, Zhang argues. This presentation will feature a case study formulation with proven efficacy and aesthetic appeal.
Finally, "Food Emulsifiers Feed the Naturals Need," presented by Nick Morante, will examine the latest food emulsifiers available and explain their utility for cosmetics, opening a new supply chain to source safe and natural solutions.
4. Beauty in the New Normal
The world of beauty and personal care has forever changed in the wake of COVID-19. A range of presentations will explore the multi-faceted impacts of this unprecedented year, as well as the innovation and market opportunities they present.
In "Beauty Consumer Needs for the New Normal," Spate's Yarden Horwitz and Olivier Zimmer will discuss what Google search trends tell us about shifting consumer behaviors and needs in beauty and personal care.
Spate analyzes more than 10 billion search signals to identify the key trends which have emerged through the lockdown. This presentation will cover which trends are here to stay, and which trends are just a fad.
"Reacting to Remain Relevant in a Cosmetic Market Crisis: Estée Lauder Case Study," led by Ida Wong, Amanda Duffield and Peter Tsolis (all of Estée Lauder) will review how brands have scrambled to reinvent themselves and remain relevant.
This panel discussion is a case study of the collaborative moves made by teams in R&D, marketing, production, etc., at The Estée Lauder Companies to react and respond to the global crisis, including concessions made and the outcome of these efforts.
Tsolis will also lead a cross-brand panel discussion, "Innovating for the New Normal," that will discuss the impacts of 2020's upheaval, as well as implications for beauty and personal care product innovation.
Topics will include impacts on collaboration/product development, claims, packaging, marketing, retail and specific categories. Experts will tackle which changes are short-term and which might be here to stay.
Meanwhile, Chris Hobson and Ken Marenus of the Independent Beauty Association will lead a panel of industry experts during "Sustaining Indie Brands Post-Pandemic." 
The discussion will offer a 360-degree review of strategies to emerge competitive in the post-pandemic recovery. Experts will include thought leaders among brands, manufacturing firms and more.
In "Formulations & Ingredients That Build Trust," presenter Mark Chandler (ACT Solutions) will ask: what will formulations look like post-pandemic?
Key points will include: a renewed focus on efficacy, trending ingredients, safe synthetics, testing: the power of verification, and merging consumer concerns driving product development.
Picking up on Chandler's theme, Anne Mu and Racheal Young (both of Evonik Nutrition & Care GmbH) will present "Take Care Now! Inspiring Solutions for the Current COVID-19 Situation."
In this uncertain time, Mu and Young argue, consumers are deeply concerned about the impact of COVID-19 on their health and economic situation. This leads to a focus on basic needs and a change of habits and shopping behavior.
Therefore, Mu and Young will address the most important consumer needs and provide inspiring ideas for products and formulations to meet them in hand care, face care and well-being.
5. Skin Care: Leading-edge Innovation
Skin care's dominance in beauty has accelerated during the pandemic. NPD data shows that U.S. prestige skin care sales totaled $1.1 billion in Q2, a year-over-year drop of just 18% during the peak of store closures. During that period, e-commerce sales spiked 93% year-over-year.
Nielsen data, meanwhile, shows that mass facial skin care grew more than 22% year-over-year in the first half of 2020, led by a 42% rise in online sales. Grocery channel facial skin care sales rose 14.5% for the first half of 2020.
And, in China, skin care represented 70% of the country's beauty sales in April.
During Beauty Accelerate Virtual, Dr. Fred Zülli and Dr. Franziska Wandrey (both of Mibelle Biochemistry) will present "Senolytics: Clearing Zombie Cells from the Skin."
The talk will feature a novel anti-aging concept has entered the medical world, with remarkable results in early trials. The concept of senolytics provokes rejuvenation by specifically eliminating senescent cells without harming healthy cells, according to the presenters. This concept has now, for the first time, been adapted for the cosmetic industry with "Alpine Rose Active."
Meanwhile, in "Biofilms: The Next Frontier in Skin Microbiome R&D," Claudia Marques, Ph.D. (Millipore Sigma) will discuss the ways in which microorganisms are embedded in a self-produced matrix—the biofilm. Marques' talk will consider the dynamics within, especially in the context of dermatologic skin conditions. It also will consider topical treatments.
In "3 Approaches to Support Skin Health,"Arnoldo Fonseca and Frank Schmidtmann, Ph.D. (both of Evonik Corporation) will discuss how the skin microbiome and barrier are the joining forces to promote healthy-looking skin.
As a complement to the skin microbiome, functional reinforcements like ceramides, cholesterols and alpha hydroxy acids can enhance the skin barrier intrinsically and extrinsically, the speakers will argue. Attendees will learn how these entities empower skin's defenses, enrich skin health and increase skin's viability.
Additional talks include:
"Navigating Fragrance Allergens," presented by Luke Grocholl (MilliporeSigma). An overview of fragrance regulations will be presented in this talk. Emphasis will be made on the requirements and guidelines that impact fragrance ingredient selection. Key labeling requirements will also be highlighted.
"Emerging Research Material Science Can Breathe New Life into Your Innovation Pipeline," presented by Prithwiraj Maitra, Ph.D. (AbbVie). A strong grasp of material science can unlock new opportunities in cosmetic product design and optimization. This "deep dive" will lay the groundwork for understanding material science and how it applies practically in skin, hair, color, sun and antiperspirant product development.
"Haptics to Augment Consumer Experience and Cosmetics R&D," presented by Matthew Herd (Sagentia). Research has shown hedonic experiences are significant drivers for consumers. Cues for texture and feel can translate biological cues. As such, haptic perception and technologies pose interesting opportunities. This presentation will explore two applications of haptics in cosmetics: augmenting consumer experiences, and aiding in the R&D of sensorially engaging products.