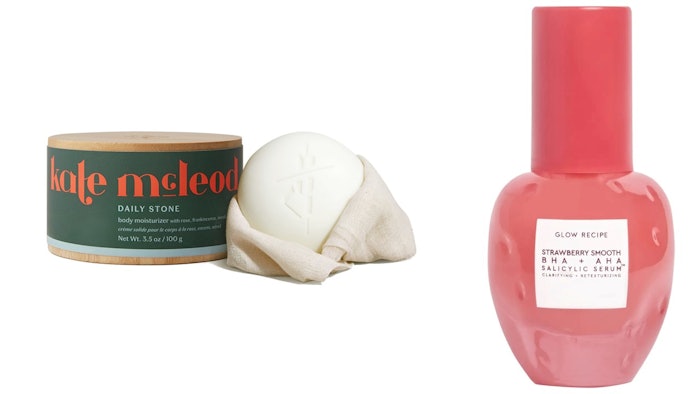 The co-founders of Glow Recipe and Kate McLeod are set to take the stage at Beauty Accelerate 2022, a two-day event taking place September 28-29 in NYC. Attendees will have an opportunity to listen in live as these two distinctive brands discuss the secrets to success in beauty.
Register now for best rates to this can't miss two-day event.
Glow Recipe is, according to Stylist,  "positively always the talk of the town over on TikTok," which helps explain how co-founders Christine Chang and Sarah Lee "turned their friendship and $50,000 into a $100-million business," per CNBC. 
The brand has been praised in Vanity Fair, while SELF declared Glow Recipe's Strawberry Smooth BHA and AHA Salicylic Serum the "Best Facial Exfoliant" of 2022.
Meanwhile, Harper's Bazaar recently declared "Glow Recipe Just Launched Our Favorite New SPF 50 Sunscreen" upon the launch of the brand's Watermelon Glow.
The Kate McLeod brand, cofounded by Kate McLeod and Nichola Gray, is a relative newcomer to the market, though it has already made a splash with its waterless, plastic-free and zero-waste Body Stone solid moisturizers, which are now available on Sephora.com.
Forbes declared "This Solid Moisturizer Is A Godsend For Pregnancy Self-Care," while the brand's hero product was a top performer in the skin care category of Elle's 2022 Green Beauty Stars.
By removing water from its formulas, the brand was able to leverage sustainable, plastic-free packaging and reduce its carbon footprint.
The Kate McLeod brand's launch in Sephora's Clean + Planet Positive program came as the brand introduced its "Healthy Planet, Healthy Minds" program, a CSR initiative that holistically addresses environmental sustainability and mental health.
The company has committed to donating 2% of its total annual revenue in 2022, split equally across environmental and mental health non-profits.
Don't miss out on hearing these two powerhouse brands speak to the state and future of beauty. Register now for best rates to this can't miss two-day event.