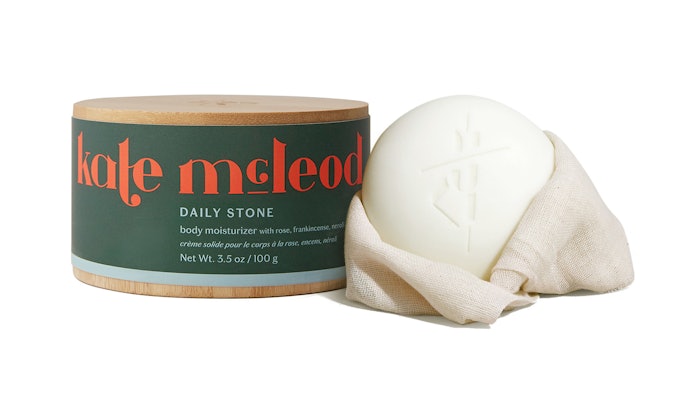 Kate McLeod, known for its waterless, plastic-free, and zero-waste Body Stone solid moisturizers, will now be available on Sephora.com.
The company will launch at the retailer with the Daily Stone, its bestselling blend of rose, frankincense and neroli.
By removing water from its formulas, the brand was able to create sustainable, plastic-free packaging and reduce its carbon footprint.
Kate McLeod's launch in Sephora's Clean + Planet Positive program comes as the brand announces the launch of its "Healthy Planet, Healthy Minds" program, a CSR initiative that holistically addresses environmental sustainability and mental health.
The company has committed to donating 2% of its total annual revenue in 2022, split equally across environmental and mental health non-profits.
Co-founder, formulator and CEO, Kate McLeod, said:
Bringing the Daily Stone to Sephora is a big moment for our brand, and for me personally. This started in my kitchen, and the Daily Stone is where it all began. It took me three years to perfect the formula, and I personally hand poured thousands of Daily Stones when we launched the business. We still hand craft, hand wrap, and hand package every single Body Stone with love at our workshop in the Hudson Valley.
We do everything very intentionally, so launching at Sephora with a single hero product felt right for us as a brand, and will allow the Sephora customer to understand that we do things very differently. We've made a solid moisturizer without the sticky wax, preservatives, synthetics, or stabilizers traditionally used to make lotion bars. The Body Stone glides on like silk. it's so nourishing and you really do have to feel it to understand it.
Cindy Deily, VP skin care merchandising at Sephora, said, "Sephora is thrilled to partner with Kate McLeod and continue bringing our clients innovative products that support all their clean beauty and wellness needs. With its sustainably focused, innovative Body Stone moisturizer, Kate McLeod helps clients optimize their self-care routines with products that are good for their skin and the environment too. We look forward to introducing this brand to our Sephora community and know that it will be a wonderful addition to our Clean and Planet Positive assortment."