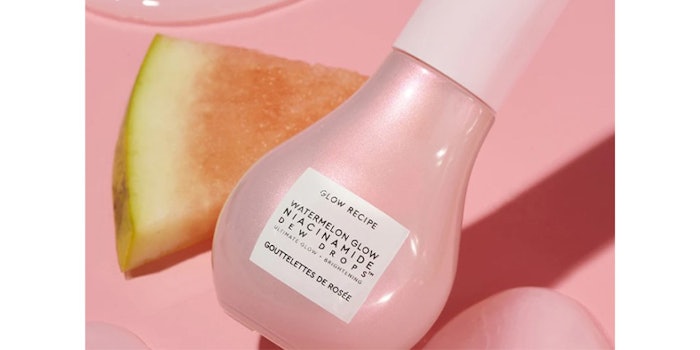 Glow Recipe's Watermelon Glow Niacinamide Dew Drops is a highlighting serum formulated without mica, glitter or pearls that helps brighten the skin and deliver an effortless glow. 
Previously: 2021 Product Launches by Mario Badescu Skin Care
According to Glow Recipe, the dew drops also reduce hyper-pigmentation.
Suitable for all skin types, including oily or acne prone, the Watermelon Glow Niacinamide Dew Drops can be used as a hydrating highlighting serum before moisturizer. 
The product is free of parabens, mineral oil, sulfates, silicones, phthalates, alcohol and synthetic dyes. 
Key ingredients include: Watermelon, niacinamide, hyaluronic acid, moringa seed oil.