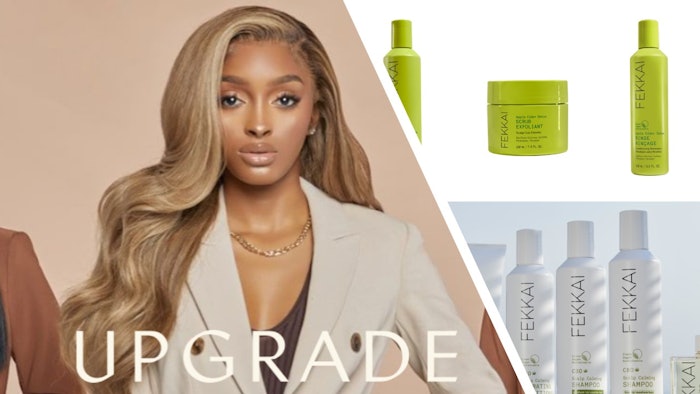 We are excited to announce that  Frédéric Fekkai, founder of the eponymous hair care brand, and Upgrade founder Britney Winters will take the stage at Beauty Accelerate 2022, taking place September 28-29 in NYC. 
>>>Registration is now open; sign up now for best rates.<<<
The entrepreneurs will discuss beauty business growth and excellence, spanning several decades of experience.
Four years ago Fekkai reacquired his namesake brand and remade it for an era that values clean, sustainable brands. 
Since that time, the brand has launched a buzzy Apple Cider Vinegar collection, which features a three-step regimen said to harness the benefits of apple cider vinegar to detoxify, stimulate and regulate for a healthier, more balanced scalp.
PopSugar praised: "The Fekkai Apple Cider Detox Scrub ($30) definitely worked its magic in removing excess oil, flakes, and product build-up without stripping the scalp or over-drying my roots."
Fekkai also launched the throwback Shea Butter Collection, a hair care line from the 1990s, at Ulta and Fekkai.com, and entered travel retail with DFS Group.
Meanwhile, Fast Company has said that "Britney Winters is democratizing the wig industry with Upgrade," an ecommerce platform for custom wigs and raw human hair extensions.
She also happens to be the entrepreneur behind Mary J. Blige's golden Super Bowl locks. 
It's no surprise, then, that in May of 2022, Upgrade announced a $1 million seed extension led by The Artemis Fund and Mercury Fund, the notable, Bracken P. Darrell and ANIM.
Upgrade claims to be the only ecommerce platform to offer business and FinTech capabilities within its wig and hair marketplace.
The new funding came as Upgrade is debuted a monthly subscription service for stylists to manage orders and communicate with consumers. Upgrade is also offering micro-loans to its subscribers to provide capital for stylists to invest in inventory and expansion opportunities. 
Don't miss this rare opportunity to hear from two visionary leaders changing their respective categories. 
>>>Registration is now open; sign up now for best rates.<<<