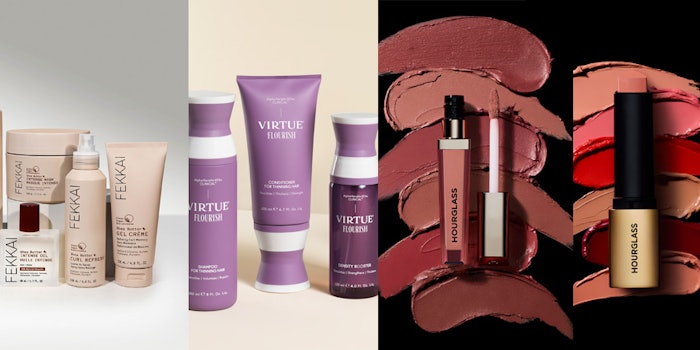 Brands, including Hourglass, Fekkai, Shave With V, Virtue Labs and Bawdy, have have launched and re-launched products in the last week.
Related: Patrick Ta Launches Major Sculpt Collection
Hourglass
Hourglass has launched two new products: Vanish Blush Stick and Velvet Story Lip Cream.
The blush sticks are said to have buildable color and a cream-to-powder formula. It has a triangular tip, contains a blend of emollients and antioxidants and is available in six shades. 
The lip cream, available in six shades, has a matte finish and is said to have a soft-focus blurring effect and full-coverage color.
All products are vegan and cruelty-free. 
Fekkai
Fekkai has announced it is bringing back its Shea Butter Collection, a hair care line from the 1990s, at Ulta and Fekkai.com.
The brand is re-releasing the collection and expanding the product range to deliver care for a wider range for hair types, from wavy to tight curls.
This collection has been re-formulated with clean ingredients including shea butter and monoi oil to provide hydration to thick, wavy and curly hair, while taming frizz.
The collection consists of:
Shea Butter Intense Moisture Shampoo: Cleanses wavy, curly and textured hair without stripping hair of its natural oils.

Shea Butter Intense Moisture Conditioner: Gives wavy, curly and textured hair moisture without weighing down curls.

Shea Butter Defining Gel: Defines and controls the formation of curls while leaving hair bouncy and hydrated.

Shea Butter Intense Mask: Moisturizes, conditions, and softens curly, textured hair.

Shea Butter Curl Refresh: Hydrates, refreshes and adds shine to second- and third-day curls without weighing them down

Shea Butter Intense Oil: Powered by 10% natural shea oil, it is said to hydrate, nourish, and smooth wavy, curly, textured hair.
Every bottle in the Shea Butter Collection is made with 95% high-grade repurposed plastic and is 100% recyclable. All products are free of silicones, sulfates, phthalates and parabens, and are gluten-free, vegan, cruelty-free, and safe for color and chemically treated hair.
Hairstylist Frédéric Fekkai said, "We have worked tirelessly to find the perfect blend of shea butter and monoi oil to deeply hydrate and nourish the hair, all while keeping in line with our brand's ethos to deliver clean formulas with salon-level results."
He added, "We have seen many different hair types in our salon over the past few years, so expanding the collection to include more hair types was very important to me. I'm excited to reach new customers and am looking forward to their feedback."
Shave With V
Shave With V is launching its Care Bears collection of shaving products on May 23, 2021.
The collection will feature bright-colored metal razor handles including gold for Funshine Bear, hot pink for Cheer Bear and teal for Wish Bear. It will also be releasing a rainbow shave butter.
The packaging will showcase different Care Bears and will launch a colorful travel case as well.
Virtue Labs
Virtue Labs has announced the launch of its new Flourish product line specifically to target female hair loss and provide thicker, fuller, and healthier hair.
Virtue took a holistic approach in creating this line by focusing on scalp fertility and hair fiber survival, with each product in the line powered by its keratin protein complex Alpha Keratin 60ku Clincal.
Virtue's Flourish line features six products that can be purchased individually or within two three-step regimens. The Flourish lineup includes:
Flourish Shampoo for Thinning Hair: A gentle, stimulating shampoo that removes scalp buildup, cleanses the hair shaft, and clears debris from follicle openings.

Flourish Conditioner for Thinning Hair: A lightweight conditioner that is said to strengthen, hydrate, and detangle hair. Specifically developed for fine, fragile hair strands, it is said to nourishes and thicken hair. 

Flourish Density Booster: A botanical-based, drug-free nutrient infusion for the scalp. It is said to work overnight to fuel fatigued follicles and nurture new hairs.

Flourish Volumizing Styler: A lightweight formula said to provide body, bounce, and hold, creating the illusion of density.

Minoxidil 5%: This is the only single ingredient FDA approved to help regrow hair in women. The nightly application works overnight to reactivate the hair follicles and stimulate regrowth.

Flourish x Manta Brush: Virtue partnered with Manta to offer this brush created specifically for fragile hair. The Manta brush bends and molds to the shape of the hand and scalp, creating less tension on each strand.
The Flourish Nightly Intensive Hair Growth Treatment Regimen is a three-month regimen for moderate to severe hair thinning and contains Minoxidil.
The Flourish Nightly Intensive Hair Rejuvenation Treatment Regimen is a 100% drug-free alternative that features Virtue's Density Booster said to serve mild to moderate hair thinning and those seeking a more natural approach.
Melisse Shaban, founder and CEO of Virtue Lab, said, "As a biotech brand born from regenerative medicine, Virtue has always gone where our technology has led us, and that is certainly true with Flourish. After launching our initial Virtue hair care line, we kept hearing from customers that their hair was growing faster or that they thought they could see new growth. That sent us on a three-year journey of discovery to see what our technology could do if we partnered it with other ingredients specifically to address this crucial problem. "Hair loss is a silent epidemic that women are facing alone. With this launch we aim to provide truly efficacious products and to shatter the stigma of women's hair loss with open conversation around this important topic."
Bawdy
Bawdy has launched its Super Tight Body Serum, said to tighten and firm the skin. 
Super Tight contains ice wine and a blend of botanicals. It is suggested to use Super Tight once or twice daily.