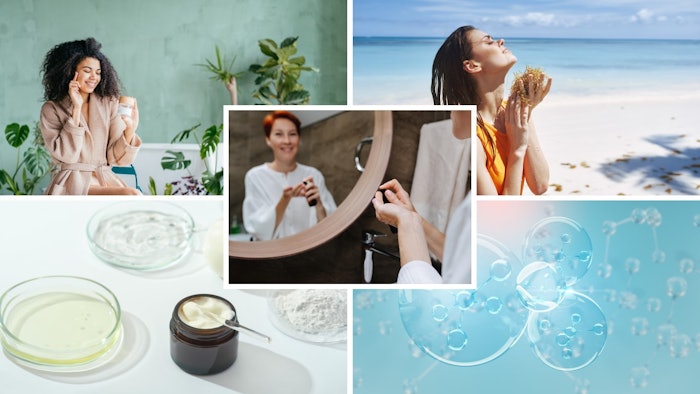 Trends are great. So are new beauty ingredients. But connecting the dots among emerging R&D advances, market and consumer trends, and supply chain innovations is what really allows brands and their innovation partners to create meaningful, consumer-winning products. 
Below are 4 new avenues for breakthrough innovation for brand leaders, marketers and R&D leaders, all of which will be explored during Beauty Accelerate Virtual June 6-9. 
>>>REGISTRATION IS NOW OPEN FOR LIVE/ON-DEMAND ACCESS.<<<
Attendee pricing is designed to be accessible for indie and major brands alike. Contact us for special group rate discounts.
1. Marine beauty
Demand for marine beauty has surged with the growing movement for eco-ethical or "blue" beauty and a closer consumer connection to the planet.
While interest in products with marine-derived ingredients from algae, kelp, clay, silt and other mineral-rich sources surfaced some years ago—with the "extremophile" approach to skin and hair care—these materials have become more relevant than ever in the blue beauty space.
Beauty Accelerate Virtual will host "Marine Beauty from Microalgae," an exclusive briefing from beauty expert Tammy Yaiser, who will explore the depths of marine beauty to follow its flow into current and future consumer cosmetics and personal care. Attendees will come away with new insights to fuel business planning, marketing and product development.
2. Fermented beauty
Fermented beauty has emerged as one of today's most-sought product categories. With consumer media such as Self, Vogue and Allure touting its benefits—and explaining to consumers how fermentation improves bioavailability (in simple terms)—the market is hungry for it.
According to Future Market Insights, across industries, the global fermented ingredients market is expected to reach $93.9 billion by 2033, increasing at a CAGR of 6.7% over the next 10 years. The firm cites fermented ingredients for both gut health and good skin as market drivers.
While deeply rooted in history, fermentation processes have technologically advanced to enable precise, bio-driven outcomes. For example, a recent article in Cosmetics & Toiletries explores precision fermentation to derive bio-identical palm oil alternatives.
During Beauty Accelerate Virtual, Michelle Shieh, scientific communications manager at AmorePacific, will explore different types of ingredients sourced from fermentation and applications of them in formulations ranging from skin care to supplements. 
3. Waterless skin care matrix
Innovations in skin care have mostly been on the ingredient side of the industry ... until now. Meet Bōshi beauty, a waterless skin care delivery system, made with nanofiber technology.
TaikiUSA's Bōshi Fiber uses a nanofiber manufacturing process to create dissolving delivery system for waterless products, cutting out the need for emulsifiers, fillers, modifiers and other additives.
The Bōshi Nano Strip range includes a hyaluronic acid moisture booster and blemish preventer. The booster is formulated with sodium hyaluronate, which ensures quick and effective delivery of moisture with reportedly no preservatives. It can be paired with a moisturizing toner for double-duty delivery of actives and hydration. And that's just the start of it.
Laura Frazier, chief scientist, TaikiUSA, will provide a deep dive into this sustainable, innovative technology during her forthcoming talk, "Nanofibers as Advanced Waterless Delivery Systems." 
4. The future is biotech
Beauty's future is all about biotech. In its 2023 beauty trend report, Mintel highlighted the "Beauty Rx" movement, which charts the intersection of consumer efficacy demands and emerging technologies in diagnostics, product applications and more.
The firm noted that 53% of U.S. beauty and personal care consumers research beauty ingredients to understand product effectiveness, per Mintel. To meet this demand, suppliers and brands will need to invest in high-efficacy biotech.
Brian Grady, senior marketing specialist, dsm-firmenich, will consider the immense potential of biotech in beauty during his forthcoming talk, "Biotechnology: Delivering Efficacy and Sustainability to Beauty."
Grady notes that consumer and brand interest in biotech ingredients continues to increase and that biotechnology will play a larger role in the beauty industry because it offers efficacy and sustainability. Most importantly, it is beneficial in providing some of the key benefits that lead to wellness (e.g., moisturization, skin barrier protection, anti-aging benefits).
Additionally, biotechnology will contribute to sustainable initiatives as many of the new biotech solutions are more environmentally friendly compared to traditional solutions. Furthermore, consumers are now associating biotech ingredients to the cleanical trend, which utilizes natural ingredients with a parallel focus on biotechnology.
To learn more about how these technologies can drive new beauty innovation, register now. 
>>>REGISTRATION IS NOW OPEN FOR LIVE/ON-DEMAND ACCESS.<<<
Attendee pricing is designed to be accessible for indie and major brands alike. Contact us for special group rate discounts.