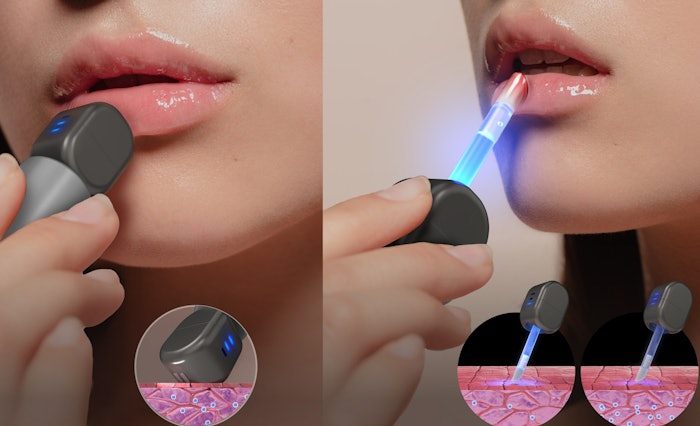 Amorepacific
CES 2024 will once again serve as a platform for emerging beauty tech, including innovations from Amorepacific and an keynote from L'Oreal.
L'Oréal CEO Nicolas Hieronimus will reportedly address "inclusive and accessible beauty tech," according to CES, highlighting the need for "personalized expressions of self."
Key topics will include AI and data analysis, supporting consumers with physical challenges, and more. (Further reading: Designing Inclusively: a Primer.)
In addition, Nimble will exhibit what is touted as the "first smart at-home nail salon."
Meanwhile, Amorepacific's Lipcure Beam technology has been honored with the CES 2024 Innovation Award. The device reportedly combines lip diagnosis, care and makeup capabilities in one unit.
Its cap houses a  sensor capable of diagnosing the condition of the lips, including moisture levels. The cap can be removed to reveal a brush-like makeup applicator that deposits a light-responsive material to the lips and a customized visible light that can, in combination with the material, boost the response of riboflavin.
This reaction between the light and the deposited material reportedly strengthens the collagen fibers inside the lips, forming a moisturizing barrier on the surface. The result is slowed lip aging, per Amorepacific.
The design supports one-handed application and "employs a universal color system naturally suited for all races and ages."
Byung-Fhy Suh, head of Amorepacific's R&I center, said, "We are profoundly honored that Amorepacific's renowned strengths in skin biotechnology and our dedicated research and development in customer-centric technology have led to us winning our fifth consecutive CES Innovation Award. The R&I center at Amorepacific will continue to exert extensive efforts, ensuring every customer achieves a satisfying life through their unique beauty and health."