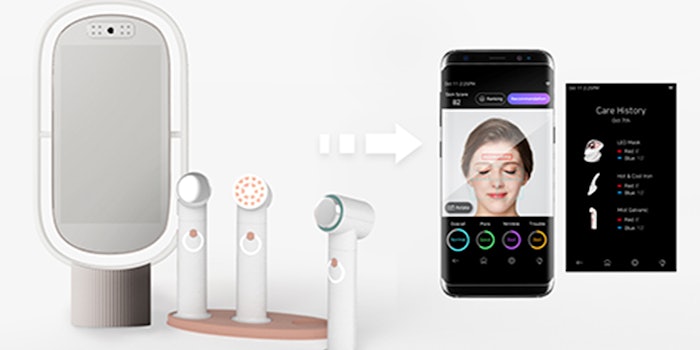 The 2021 CES Innovation Awards will highlight beauty advancements and honor technology in categories such as beauty, wellness and smart homes. The event, taking place January 11-14, 2021, will include keynote speaker Chana Ginelle Ewing, founder and CEO of beauty platform Geenie.
Related: Amorepacific Honored at CES Innovation Awards 2021
At the CES 2021 Technology Preview, Perfect Corp., creator of the YouCam solutions, revealed a sneak peek at its new artificial intelligence (AI) and augmented reality (AR) technologies. 
Deep dive: Why Some Beauty Tech Doesn't Succeed
Perfect Corp. will host a digital booth during CES 2021 showcasing some of the beauty technology innovations of the year including:
AI skin diagnostic

AR

livestreaming

for web
Beauty

Advisor

one-on-one for web
Facial Aging Simulation
Patented Agile Face Face Tracking

Contactless

virtual try-on for retail

YouCam

For Video, a makeup and face retouch video editor
Perfect Corp. founder and CEO, Alice Chang, said, "We are excited to preview Perfect Corp.'s newest AI and AR beauty tech innovations at CES 2021 in January. At Perfect Corp., we continue to innovate with AI and AR beauty technologies that drive results. This has been a challenging year for everyone and we have quickly adapted to changing brand demands and evolving consumer behaviors to develop services and solutions that serve the greater beauty industry, providing safe, effective, convenient, and fun beauty shopping experiences, bridging the gap between our digital and physical worlds."
Meanwhile, the following products are being honored in the health and wellness category:
Satisfyer Love Triangle by Satisfyer
The Satisfyer Love Triangle combines air-pulse technology with deep vibrations to create simultaneous stimulation. Designed with a practical cap, this added feature ensures hygienic and discreet storage.
The Satisfyer Love Triangle is Bluetooth enabled, which allows users to pair with the free Satisfyer Connect app to uncover additional custom and personalized pleasure.
The technology aligns with the broader rise of sexual wellness, a growth category for the personal care space in recent years.
Philips Sonicare Prestige 9900 by Philips
Philips has paired thorough cleansing with smart sensors and a performance-tracking app.
Meanwhile, for the smart home category, the following product was honored: 
Lumini PM (Personalized Mirror) by Lululab Inc.
Lumini PM is a Smart Mirror Hub that provides personalized service through a mobile application that analyzes skin data using AI and deep-learning technology.
It functions as an at-home skin assistant by recommending cosmetics, home care devices and health care products. The mobile application delivers analyzed skin and lifestyle data while creating an interactive community among users with similar skin characteristics.