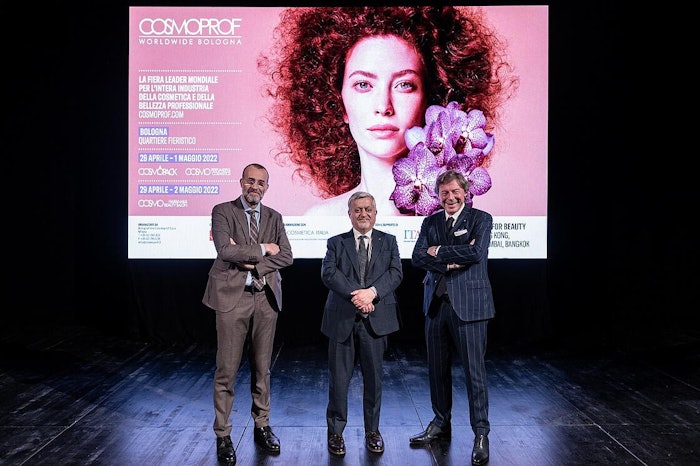 Cosmoprof Worldwide Bologna is returning to attendance and exhibition activities after a two-year absence due to the COVID-19 pandemic. This year's event will take place from April 28 to May 2, 2022, in Bologna. The event will feature exhibitions from more than 2,700 companies and 70 countries and buyers from more than 90 countries.
Related: in-cosmetics Global Publishes Shortlist for 2022 Awards
Within the event, Cosmo Perfumery & Cosmetics will showcase the latest in skin care and fragrance from more than 1,100 exhibitors. Cosmoprime is dedicated to selective and high-end cosmetics and will host several premium and luxury brands at the event. Cosmo Hair & Nail & Beauty Salon will showcase hundreds of companies specializing in products and services for professional aesthetics, spas and nails.
The newest innovations in beauty will be presented at the Extraordinary Gallery and the Zoom on Emerging Prime section. Select companies attending the event for the first time will be presenting new ideas on ingredients and formulations within the Zoom on Emerging Prime Section, while the Extraordinary gallery will present companies with innovative concepts in packaging, brand philosophy and formulation.
This year will see the return of the Cosmoprof & Cosmopack Awards, a project curated by BeautyStreams that celebrates cutting-edge technologies and innovative products presented by the 2022 exhibitors. The winners will be chosen by a jury of industry experts, trend agencies, opinion leaders, journalists and international influencers.
The Cosmoprof Awards will encompass the best-finished product proposals in five categories: Hair Product, Skin & Personal Care Product, Salon & Spa, Make-Up & Nail Product and Natural & Organic.
The Cosmopack Awards will celebrate supply chain innovation in five categories: Skin Care & Hair Formula, Make-Up & Nail Formula, Make-Up & Nail Packaging Technology, Skin Care & Hair Packaging Technology and Packaging Design.
The 2022 Lifetime Achievement Award will be presented to Dario Gianandrea Ferrari, founder and president of Intercos Group.
Gianpiero Calzolari, president of BolognaFiere, said, "After two years of stopping the exhibition activities in attendance, the 2022 edition of Cosmoprof Worldwide Bologna is a sign of optimism and confidence in the ability of the industry to restart. In line with safety protocols producers, companies, and operators from all over the world will be able to return to traditional business activities, drawing inspiration from consumer trends to relaunch the market. This is the role that fairs must play because it is between the corridors of our exhibitions that the exchange between supply and demand finds its best expression."