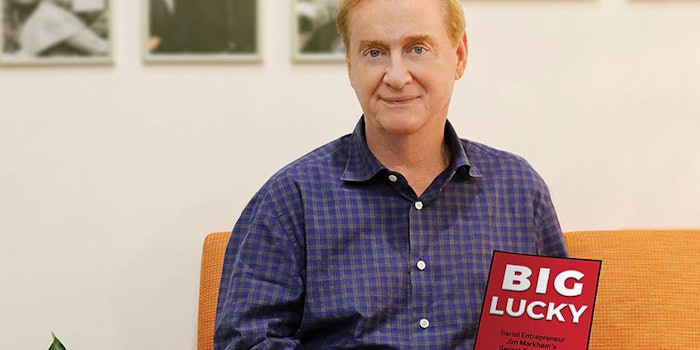 ColorProof Color Care Authority founder and CEO, Jim Markham, has introduced a new book, "Big Lucky: Serial Entrepreneur Jim Markham's Secret Formula for Success," which provides a behind-the-scenes look into the executive's life and career, including early beginnings as a hairstylist and leadership of five companies that purportedly earned more than $1.2 billion in combined retail sales. Here, we present an excerpt. -Editor
Answer The Call
Less than a year after we sold [ABBA Pure and Natural in 1997], Cheryl's* best friend—Kerry Berk-Edelman—reached out to her. The second Cheryl heard Kerry's voice, she knew something was wrong: "Cheryl, I've just come from my oncologist's office. I have ovarian cancer." 
Kerry's doctor had given her a long list of do-not-use ingredients in the personal care products she'd been using. When I got on the phone with her, I calmly asked her, "Why don't you just use ABBA?"
"I can't," she said. "Some of the ingredients are on the do-not-use list."
That caught me completely by surprise. We'd built the entire brand around natural products that were the safest on the market. The do-not-use list was overwhelming, with more than 20 ingredients deemed unsafe. There was no time to waste.
I called my chemist friend, Subhash Bahl. We started figuring out alternative ingredients, determined to create a clean and safe shampoo and conditioner. I felt the full weight of the urgency of this mission: Kerry was like a sister to Cheryl. And time was ticking.
Subhash and I worked closely together, first on the shampoo. In particular, sulfates jumped out at me. They were in virtually all shampoos on the market, because they're cleansing agents that create lather.
But I learned they can also cause skin irritation and sometimes contain traces of 1,4-dioxane, a suspected carcinogen that forms during the production of the shampoo. 
After multiple rounds of testing and revisions, we developed a revolutionary new shampoo. It was vegan, like ABBA's product had been, but this time the formula was sulfate-free and salt-free.
Despite the absence of sulfate and salt, the shampoo maintained a tremendous lather, rinsed well, and left the hair shiny and smooth. Best of all, it was free of the ingredients Kerry could not use.
Despite our best efforts and her valiant fight, our beautiful friend Kerry died in February of 1999.
During one of our saddest moments, we discovered our life's work. Through the initial feedback, it became clear that the product we'd created for Kerry helped keep color in.
Over the next nine months, we spent entire days with top experts, listening to their advice regarding bottling, branding, graphic design, packaging, marketing, advertising, and every aspect of the business.
I wanted to hear multiple viewpoints and consider the best options available every step of the way. We devoted hours to discussing who we were appealing to, what age woman to target, and the best way to deliver our message.
This process took a lot of effort, but the collaborative team we pulled together shared our excitement. We were creating a whole new category: color care. We were developing something revolutionary for the entire industry, and the energy among us was intensely positive.
We worked to find the perfect name for our new brand. Finally, the team agreed to meld two words: pure, what our products were, and ology, which is the Greek word for science.
PureOlogy—the science of pure. Six years later, on May 8th, 2007, PureOlogy was sold to L'Oreal for $280 million.
*Cheryl Markham, the author's wife.