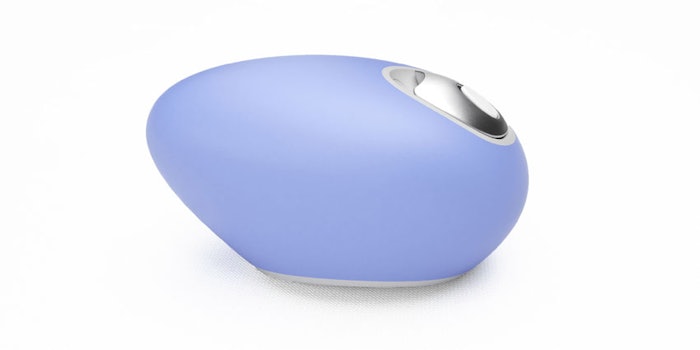 While various active cosmetic ingredients demonstrate proven efficacy, according to Droplette, a U.S.-based technology company, it has been shown that as much as 90% of the ointments, oils and serums consumers apply to their skin either evaporates, is wiped away or is sweated off before those actives can do their work. As such, the firm has developed a medical-grade device to improve product delivery while also providing a high-end luxury skin care product experience. It will launch late in 2020.
The system generates sub-micron droplets of topical treatments and turns them into a high-velocity mist. Holding the device to the skin reportedly allows the ingredients to penetrate without irritation and as much as 60% more effectively than a topical treatment. According to the company's website, the technology uses fluid dynamics, the piezoelectric effect and Fick's laws of diffusion to deliver actives "with the penetration power of injectables."
Furthermore, the measured droplet sizes (using laser diffraction) do not pose a risk of delivery into the lungs. "We've done studies with cascade impaction where we have the system inhaled though the mouth for a full minute," the company explained to Cosmetics & Toiletries. "Even then, we cannot detect above the 1.5% threshold in the lungs. Keep in mind, in this study the device is put into the mouth and the subject inhales. With intended usage, we ask users to actively not inhale and to close their mouths. Our technology is purely mechanical, so there are no propellants under high pressure like that seen in hairspray."
'Combined with an elevated, customer-focused digital experience built for the high-end beauty market, we believe it's well-positioned to revolutionize the beauty industry.'
Device Backstory
Droplette founders Madhavi Gavini and Rathi Srinivas developed the technology behind the namesake product in 2015, initially with a focus on medicine since according to them, while topical steroids and antibiotics are common, they also are ineffective as delivered.
"Once we solved the delivery problem for skin diseases in the medical world, we began thinking about applications for the over-the-counter world of skin care," said Gavini.
According to the founders, the resulting device "combines the luxury engineering of Dyson with the elegant simplicity of a Nespresso machine." Users insert a pod filled with active ingredients into the small, battery-powered device. Such pods may include an anti-aging serum with collagen and retinol, brightening products with glycolic acid, or acne solutions with niacinamide—all of which are said to be capable of producing clinical-level results at home.
Integrated Experience
The device additionally is incorporated into a larger consumer experience, developed by design firm Levin and Riegner (L+R). This includes a connected app to help consumers better understand and optimize their product use, visually track their progress over time using a photo journal feature, access personalized educational content and connect directly with a dermatologist.  
"Our unique device is painless and portable," Srinivas said. "Combined with an elevated, customer-focused digital experience built for the high-end beauty market, we believe it's well-positioned to revolutionize the beauty industry."