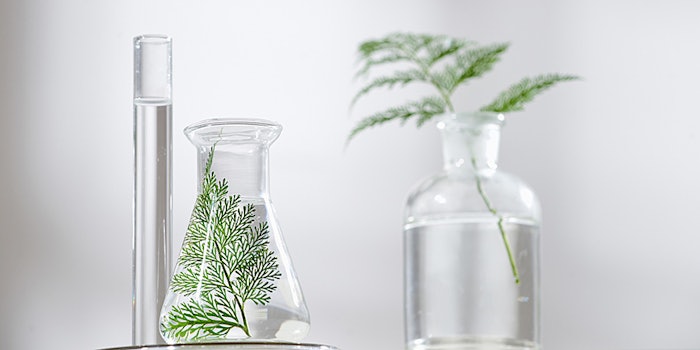 Calyxt, Inc. has launched an initiative to engineer synthetic biology solutions for the nutraceutical, cosmeceutical, pharmaceutical, advanced materials and chemical industries.
Featured: Quality Culture Part II: Raw Materials
Central to this strategy is the integration of Calyxt's technology platform, PlantSpring, with its commissioned pilot bioreactor, the BioFactory, which together will enable the company to prototype and produce plant-derived compounds without outdoor cropping systems.
The company estimated that, aided by machine learning and artificial intelligence, it will be able to take a customer's molecule need through Calyxt's design, engineering, verification and pilot-level production process within 36 months, with commercial scale production to commence thereafter.
Based upon the engineering of plant metabolism to mass produce plant-based compounds, the final output is designed to provide customers across industries a safe and more sustainable supply of these compounds for use in products and manufacturing processes.
PlantSpring
Calyxt has developed early-stage artificial intelligence and machine learning capabilities in PlantSpring, which enable learning and adaptation from knowledge gained from past activity and can be combined with predictive analytics to prototype and provide feedback, accelerating the time from design to pilot and de-risking the commercial scale-up phase.
As a result, the company can develop engineered biomolecules in plants for customers at faster speeds. Calyxt expects to continue to develop its artificial intelligence and machine learning capabilities end-to-end across the PlantSpring platform and the BioFactory and anticipates this augmentation to continue to drive down development timeframes. 
BioFactory 
The BioFactory is the culmination of the work of Calyxt's researchers and will enable the company to expand its production methods from solely outdoor agriculture systems to also include controlled environment, bioreactor-based production systems. 
The BioFactory harnesses plant cells in a matrixed structure, combined with nutrients and media for its production, and leverages multiple cell types. The matrix structures enable controlled replication and processing of molecules with the replication accelerating over time. 
The BioFactory produces these plant-based molecules within a synthetic biology bioreactor. Calyxt has produced multiple proofs of concept biomolecules in its laboratories. The initial pilot BioFactory will operate from Calyxt's headquarters in Roseville, Minnesota, and is currently expected to be online by the end of 2021.
The company plans to work with infrastructure partners to build capabilities to produce at larger scales to meet customer demand. The transition from pilot to commercialization is expected to be facilitated through third-party contract manufacturers.
The company's manufacturing approach notably does not use fermentation. As a result, Calyxt's process at scale is expected to be simpler, create less water waste and disposal, and allow customers to stack multiple molecules from plants, even potentially turning by-products into useful products. 
Previously: L'Oréal USA Achieves Carbon Neutrality
"By leveraging our proprietary PlantSpring technology platform with our newly commissioned pilot bioreactor, the BioFactory, Calyxt has the pieces in place to advance plant-based synthetic biology solutions for important target customers and end markets to help those groups produce more sustainable products toward meeting their corporate sustainability targets," said Michael A. Carr, president and chief executive officer of Calyxt. "These new potential customers include large corporations within such industries as nutraceuticals, cosmeceuticals, personal care, and pharmaceuticals, as well as companies that manufacture advanced materials and chemicals."
Carr added: "Through our engineering of the metabolism of plants, Calyxt unlocks plants' ability to exponentially multiply the production of finite biomolecules into large quantities, enabled within a bioreactor that does not use fermentation or farmland. As a result, Calyxt offers customers the opportunity to target a broad range of plant biomolecules and applications produced through a highly sustainable process, and within a highly efficient timeframe aided by our emerging machine learning and artificial intelligence toolkit. Our efforts are already underway to market our expanded offerings to new target customers." 
"Calyxt's scientists are experts at engineering plant metabolism, which includes enabling the plant cells to produce more or less of certain chemistries, or novel chemistries, that may be unique to plants," said Travis Frey, Ph.D., chief technology officer of Calyxt. "The scientific team has demonstrated this capability many times over across multiple plant species. We leverage our PlantSpring technology platform as the engine that drives Calyxt's R&D capabilities. It combines our company's decade of technology, know-how and intellectual property and enables us to engineer important plant biomolecules, often found at scarcity in nature, and to eventually produce these biomolecules at scale for our customers." 
"The scaled production of these biomolecules through our BioFactory will be vital for our customers because it will provide them with more sustainably sourced materials for their manufacturing processes," added Frey. "Furthermore, we believe the BioFactory has the potential to be one of the most productive and sustainable plant-based processes across industries because of its production methodology. Based on our initial test results we expect to produce compounds at higher yields and throughputs on a per-unit basis, which is one of the reasons we believe the BioFactory can be scaled. Because it does not use fermentation, we expect fewer of the sustainability challenges associated with other indoor systems, including potentially lower levels of off-gasses, reduced water demands and lower energy requirements."