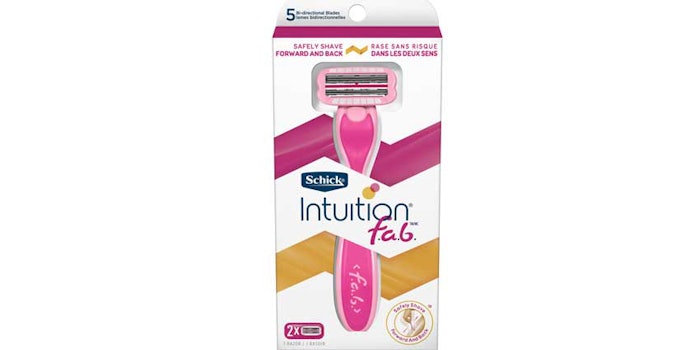 Schick has introduced the first-of-its-kind bi-directional razor called Schick Intuition f.a.b., which stands for forward and backward, as the razor can be utilized in both directions.
This razor is added to the Schick Intuition portfolio after years of testing to develop a product transforming a conventional behavior recognized by the industry.
The bi-directional razor can be used without being lifted from the skin and the cartridge contains built-in moisture gel for an easier glide. Additionally, the top blades shave up, while the bottom shave down to create a convenient shave.
"Ease and convenience is the name of the game for Schick Intuition," said Anthony Pietrini, senior brand manager for Schick Intuition, Edgewell Personal Care. "In 2003, Schick Intuition revolutionized the shaving experience with the launch of the world's first 2-in-1 razor that lathers and shaves in one easy step to give consumers a smooth, effortless shave. Now, we're welcoming 2018 by staying true to our legacy of delivering products that take the hassle out of shaving with the all new Schick Intuition f.a.b.  This breakthrough product will provide a solution to one of the biggest conventions in shaving through the use of bi-directional shaving."
"With a new and disruptive razor technology, we wanted to ensure the razor performed to the best of its ability," said Eric Kaplan, project manager research and development, Edgewell Personal Care. "This was one of the most consumer-tested shave systems we have ever launched. Schick Intuition f.a.b. was designed for safety and comfort while still providing for outstanding closeness. Consistent with our vision, and with an emphasis on the consumer, our team is proud to deliver this unique, insightful and intuitive innovation."