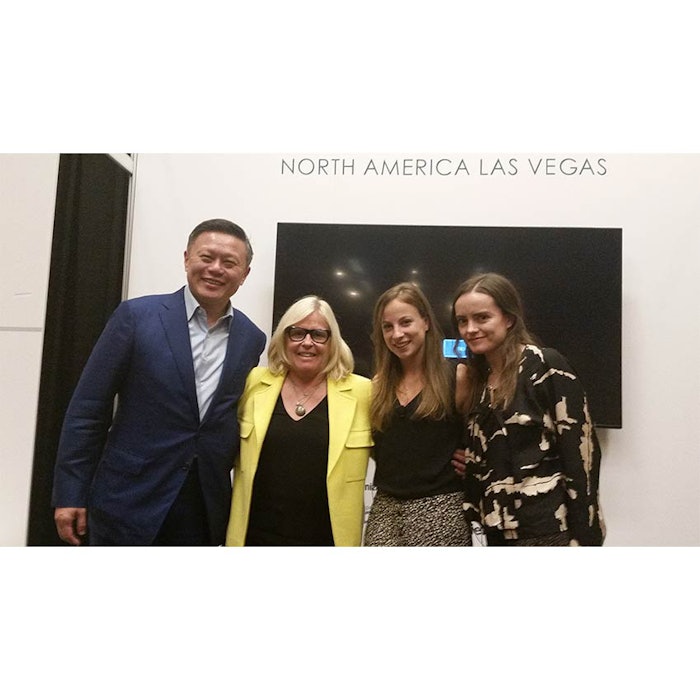 Cosmoprof North America 2017 hosted 1,278 exhibitors and more than 36,000 visitors. This year, the event enhanced its focus on emerging brands in the consumer and professional space, multicultural beauty as well as a significant focus on 49 "green brands."
What's next: • Belleza y Salud Bogota, September 27-29, 2017 • Cosmoprof/Cosmopack Asia, November 14-16, 2017/November 15-17, 2017 • Cosmoprof Bologna, March 15-18, 2018 • Cosmoprof North America, July 29-31, 2018 • Cosmoprof Mumbai, September 10-11, 2018 • July 29th through 31st, 2018. 
Jeb Gleason-Allured, editor in chief of Global Cosmetic Industry, hosted presentations from Google, Madion Reed and HiMirror on the closing day of Cosmoprof, highlighting the diverse ways in which beauty is being disrupted in 2017.
Amy Errett, CEO of Madison Reed, outlined her vision for improving the hair color experience by providing a pleasant, safe and effective experience for consumers at a pricepoint well below the traditional $150 salon experience. Errett's talk touched on the elimination of key ingredients of concern from formulas, as well as the need to simplify shade matching.
Yarden Horwitz and Flynn Matthews of Google presented the results of their in-depth analysis of skin care search trends in the United States, France and Japan, highlighting not only hot trends but potential future market drivers.
In addition, Horwitz and Matthews described the various types of trends—from Sustained Risers to Falling Stars—and what marketers and product developers can extrapolate from them.
Simon Shen, CEO of HiMirror, discussed his firm's beauty and wellness technology, which leverages image processing, facial recognition and big data analytics to generate beauty and health related insights for consumers. The HiMirror technology, which was co-developed with dermatologist input, operates via hands-free gesture, voice and remote control and can assess and track skin firmness, texture, clarity, brightness and overall health. The device can take an HD photo of the user and generate personalized skin care suggestions.
The company's Plus version includes smart ambient LED makeup lighting for different environment settings, including restaurants, offices and outdoors, while the HiSkin hand-held device gathers a 360-degree skin analysis, including moisture and melanin levels. The device can also measure 10 skin conditions.