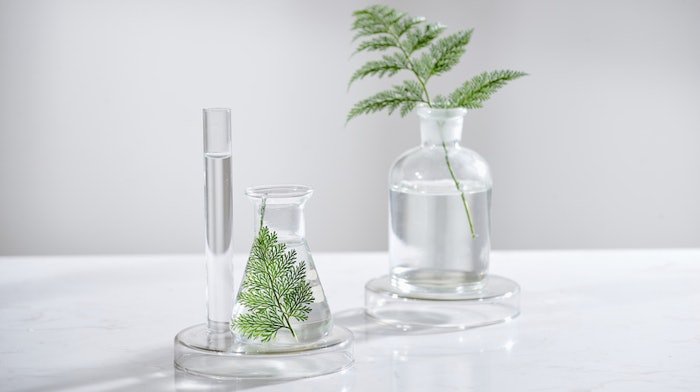 At the 2022 International Federation of Societies of Cosmetic Chemists (IFSCC) congress, BASF scientists presented findings and novelties in research methods for the development of cosmetics. The company's scientists and experts also discussed the impact of these findings and opportunities ahead in podium sessions as well as poster presentations.
Research results include the discovery of the age-dependent decrease of skin-native bacteria; a neuroskin-on-chip method designed by NETRI to create a 3D innervated skin model; and a joint study with Stanford University on emollients that can reduce skin drying stresses and promote skin well-being. 
BASF has shared summaries of its findings that were shared at the IFSCC congress:
New Method Reveals Specificities of Sensitive Skin
In a recent study, BASF scientists examined the composition of the skin microbiota of individuals with sensitive skin compared to non-sensitive skin. The analysis revealed changes in presence and abundance of common and specific bacteria strains. A droplet-based microfluidic technology (DBMT) developed by Biomillenia was used to isolate these bacterial strains in culture. The microbial library obtained can be used to identify and test active ingredients with the potential to restore the balance of the microbiota of sensitive skin.
Neuroskin-on-chip Technology Mimics Innervated Skin
To develop and test neurocosmetics that help to improve the interactions between the skin and the nervous system and contribute to reducing signs of aging or skin stress, accurate skin models are needed. Together with NETRI, a French start-up and expert in rapid prototyping of organs-on-chip, BASF grew an innervated epidermis on a chip.
Related: BASF Partners with Ingedi to Boost TCM-inspired Beauty
Selection of Emollients Supports Skin Hydration
A team of researchers from BASF and the lab of Reinhold Dauskardt, Ph.D., at Stanford University examined skin care formulations that included different emollients with widely varying properties and molecular structures. The results indicate that by careful selection of emollients and other ingredients, skin drying stresses can be reduced, and skin-well-being promoted.
Probiotic Anti-aging Ingredient with Live Bacteria
To better understand the relationship between aging and changes in the skin microbiome, BASF researchers conducted a study with younger and older cohorts. It revealed significant differences in the populations of Lactobacillus strains. L. crispatus in particular could be identified as a "youth bacterium." It was abundant in younger skin, but not detectable in the wrinkles of the older cohort. These results allowed for the development of a probiotic for applications in healthful aging.
Strategy to Combat Age-related Changes of Scalp and Hair Based on Plant Extracts
BASF scientists developed a holistic anti-aging approach for scalp and hair follicles based on three main objectives: moderation of scalp sensitivity by protecting the epidermal barrier, balancing the microbiota and moderating the excessive immune response. For this purpose, plant extracts were selected for their TRPV1-antagonist properties and the best extract was studied for its effects on the above-mentioned parameters. In this way, a plant extract could be identified that is suitable to help counteract age-related changes of scalp and hair.
Interactive Matrix for Skin Care Products Targeting Anti-pollution
Finally, the anti-pollution working group of the German Society for Scientific and Applied Cosmetics (DGK) developed a publicly accessible, interactive matrix containing information on air pollutants, some of their effects on the skin, cosmetic ingredients, and applications and relevant methods for evaluating efficacy.