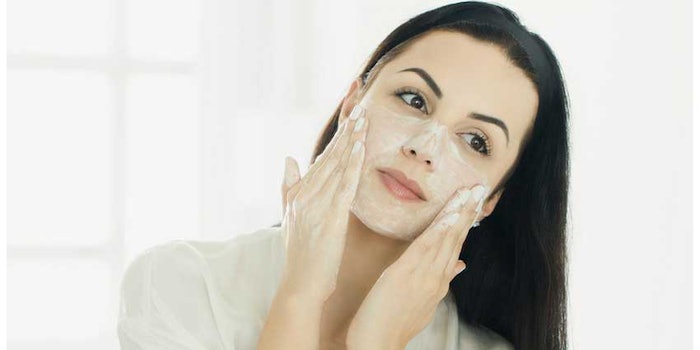 The Sensai Ultimate line aligns with traditional Japanese philosophy and comprises a dual cleansing system to impart anti-aging benefits. The products will roll out in Japan in March, with future launches planned overseas.
Kanebo's Sensai brand products bring out skin's beauty based on the Sahō routine, embodying the spirit of hospitality that underpins the traditional Japanese tea ceremony. The practice incorporates the spirit of ichigo-ichie, a commitment to "treasure every encounter" with thorough and thoughtful treatment.
The skin care line will be the first in the Ultimate series, which leverages a double cleansing approach—reportedly a key element to moisten and firm aging skin. Double cleansing involves the use of a facial cleanser after removing makeup with n oil. This two-step Sahō method conditions the skin to a silky texture.
The Sensai Ultimate cleansing oil (INCI: Squalene (and) Rice Oil Extract (and) Sakura CPX (INCI: Cherry Leaf (Somei Yoshino Cherry Leaf) Extract (and) Artichoke Leaf Extract (and) Methylserine (and) Pyracantha Fortuneana Fruit Extract (and) Zostera Marina Extract (and) Pearl Extract (Hydrolyzed Conchiolin Protein)) (and) Koishimaru Silk EX (INCI: Koishimaru Silk (Hydrolyzed Silk) Extract and Acetylglucosamine) is a thick golden oil that envelops the skin and lifts away makeup. Once the makeup is rinsed away, the skin feels moist and smooth.
Following the oil, the Sensai Ultimate creamy soap (INCI: Glycerin (and) Rice Oil Extract (and) Sakura CPX (and) Koishimaru Silk EX) is used. This paste-like facial wash is designed to leave a creamy and soft skin feel. The paste spreads directly onto wet skin and works into a lather with the help of an attached cleansing brush—a utensil custom designed to remove all traces of dirt.
Both products not only contain rice oil extract, but Sakura CPX4 and Koishimaru Silk EX, moisturizing compounds shared by both items in the Ultimate series.
For more information, visit the Sensai Cosmetics website.