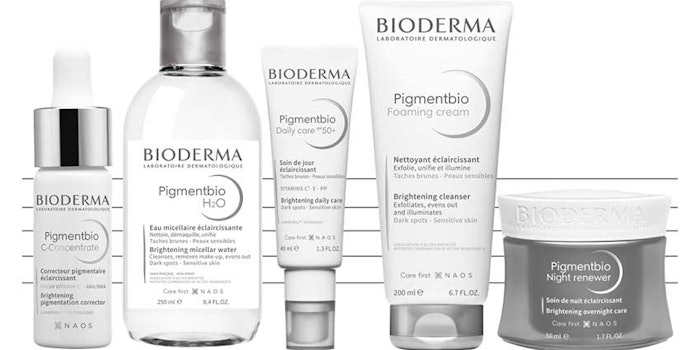 Pigmentbio by Bioderma was created to target hyperpigmentation and dull skin, whether it's caused by age, sun exposure, pollution, hormonal imbalances, acne scars, pregnancy or genetic predisposition.
Previously: Read the Label: Biodermas Sensibio DS+ Crème
The Pigmentbio products act on the skin to reduce hyperpigmentation and to preserve the skin's barrier with key benefits:
The anti-inflammatory action of glabridin soothes skin inflammation to prevent pregnancy-induced hyperpigmentation (PIH).
The depigmenting action of andrographolide and azelaic acid limit melanin production by inhibiting tyrosinase.
The cell renewal boost of the key ingredient, Epidermactiv (INCI: Not Provided), brightens the complexion by triggering the removal of pigmented dead skin cells. The ingredient is secreted by a planktonic microorganism from a French river in Brittany.
A typical way to reduce hyperpigmentation is through dermatological depigmenting treatments such as laser, hydroquinone, liquid nitrogen, etc. However, these treatments can affect individuals differently in various climates; e.g., sun exposure is highly discouraged after certain abrasive treatments; and/or several of these approaches can be aggressive to the skin.
Related: The Unidentified Role of Sunscreen in Treating Hyperpigmentation Taking on a New Responsibility
Pigmentbio products can be used to complement a dermatological treatment or as a follow-up, for example, with a vitamin C concentrate. Consumers are advised to cleanse and prepare the skin with the H2O micellar water and exfoliating foaming cream; then to brighten and protect from the sun with the Daily Care SPF 50+; to diminish dark spots with the C concentrate; and finally, to brighten the complexion with the Night Renewer.
More information about these products can be found on Bioderma's website.