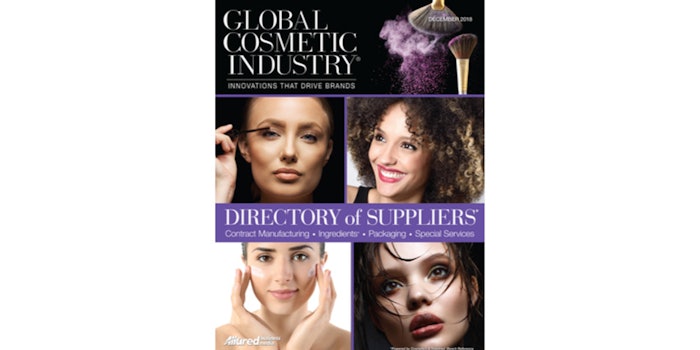 Get listed in the FREE and fully comprehensive Global Cosmetic Industry Directory—the annually printed, much-anticipated industry resource for contracted services, ingredients, packaging and more.
To help you along the way, view our step-by-step demo video to walk you through the ins and outs of the update process. Time stamps within the video for each lesson include:
0:00–12:37 Account Creation, Login, Contact Info, Company Type(s)
12:37–21:38 Ingredients, Functions and Market Claims
21:38–23:38 The Directory: Listings are Organized by Claims and Functions
23:38–33:10 Entering Prototype Formulas
33:06–34:21 Where Your Prototype Formulas Are Published
New Claims and Categories for 2019
This year we've followed market direction and added new claims and categories to make your offerings even more relevant. Log in today to update your listings with new...
Ingredient claims:
Microbiome Care
Blue Light Protection
Mood Influencer/Neurocosmetic
CBD Isolate
CBD Broad-spectrum
Fair Trade
COSMOS/Ecocert Compliant
Food Grade
Vegan
Anti-pollution
Packaging types: 
Biodegradable
Refillable
PCR
Recyclable
Monomaterial
Child-resistant
PET
Ingredient functions:
Infrared Filter
Blue/Visible Light Filter
Product format types: 
Turnkey
Masks (added to Contract Manufacturing and Private Label services)
Nutricosmetics (updated to read): Ingestible/Nutricosmetic
Problems Updating?
Contact the directory administrator or your business development manager.