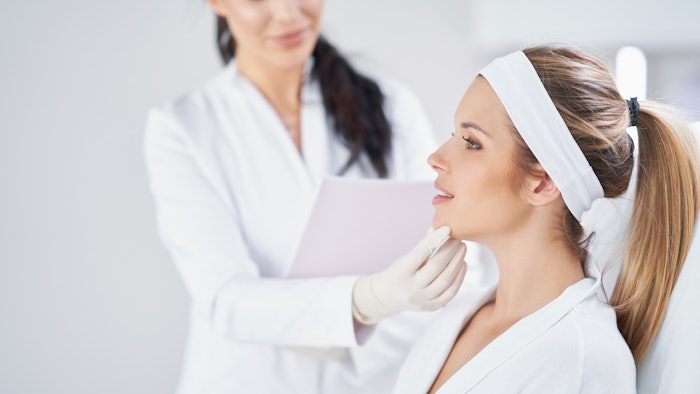 The Estée Lauder Companies, alongside several of its brands, recently presented a range of preclinical and clinical findings at the 25th World Congress of Dermatology.
Related: Next In Skin: How EEG Uncovers Brain-skin Axis Interactions for Beauty
The poster and satellite symposium presentations focused on translating biological learnings and research efforts into meaningful innovation, including better methods to care for and protect skin, per the company. Some topics included:
The benefits of regular use of moisturizer to skin aging prevention: a six-month evaluator blinded, randomized and controlled clinical study presented by Hao Ouyang, Ph.D., executive director, Clinical Sciences. This presentation discussed how moisturizers are used to treat dry skin conditions but have not gone through long term trials; a 6 month study evaluating 160 women with dry skin; and the results of that study which indicated a potent moisturizer can treat skin dryness and improve the appearance of facial aging through the stratum corneum.
The effect of a multi-ingredient facial cream on skin structure, function, and appearance: evidence from ex vivo and clinical studies presented by Jaime Emmetsberger, Ph.D., La Mer's Max huber research labs lead scientist. The presentation evaluated a topical cream formulation containing Macrocystis pyrifera ferment and other ingredients and found that the facial cream offers effective treatment for barrier integrity and signs of aging and skin appearance with daily use.
The importance of Sirt2 in regulating mechanobiology of the skin presented by Nadine Pernodet, Ph.D., senior vice president, Bioscience and lead scientist Estée Lauder research laboratories. The presentation had Estée Lauder researchers examine the role of sirtuins (SIRTs) in promoting youthful skin properties. The study found that treatment with SIRT 1, 2, 3 and 6 activators helped rebuild protein structure and increased collagen production in mature skin cells, while the combination of SIRT 1 and 3 activators increased elastin and fibrillin production in ex vivo skin samples. Activation of SIRT2 also increased skin cell area – a feature typical of younger skin cells.
Lisa Napolione, senior vice president, global research and development, commented: "For over 75 years, innovation in skin science has been our north star. With rapidly emerging knowledge and advancements from the dermatologic and scientific communities, the science of skin care has never been more important."