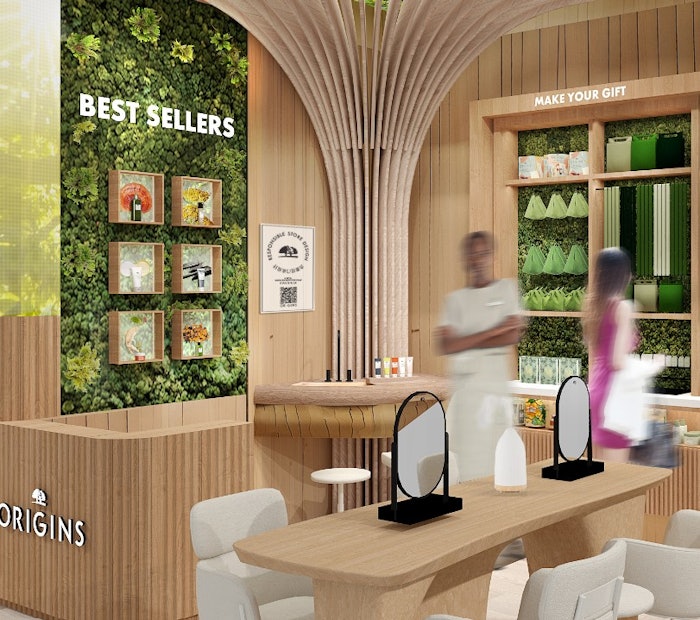 The Estée Lauder Companies has launched its new Responsible Store Design Program, which provides a framework for the assessment of new and existing retail stores and for the design of its visual merchandising across a variety of sustainability-related areas including waste reduction, water and energy conservation and responsible material sourcing.
To participate in the program, brands must meet all relevant program prerequisites, which vary based on the retail space and store type.
New stores: A scoring system is used based on points, where each individual location is evaluated based on various sustainability efforts across retail design and operations.
Existing stores and visual merchandising: A checklist of pre-requisites is used to ensure each location meets its core sustainability requirements.
New and existing stores: Requirements include store build out, energy and water, responsible sourcing of materials, visual merchandising, store operations and innovation. 
Six stores have already aligned with the framework as part of the fiscal year 2023 pilot program.
The Responsible Store Design program was developed with the assistance of a sustainability consulting firm with expertise in green building design and reviewed by a third-party to assure its credibility and accuracy. 
Al Iannuzzi, vice president, sustainability, said, "Sustainability has long been part of our corporate strategy and company culture, and our new Responsible Store Design program is a creative and impactful way to showcase ELC's sustainability commitments to both our employees and our consumers. We're excited to launch our branded retail sustainability program and look forward to scaling this work beyond our pilot stores to impact retail operations globally in the future."