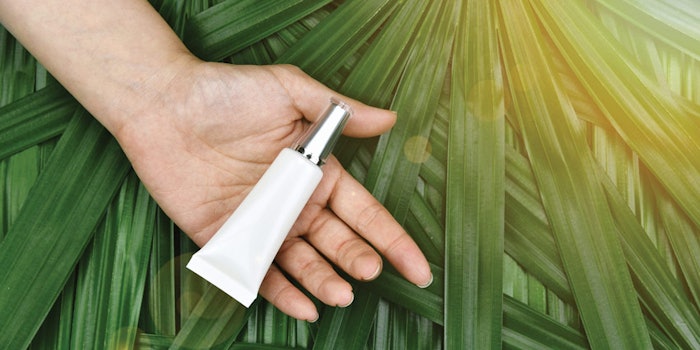 Packaging can preserve and protect products to ensure efficacy and safety, but all too often packaging is at the center of concerns over throwaway culture and harm to critical ecological resources, including the ocean.
"Brands will need to act fast by exploiting on-pack communication tools to educate consumers to the benefits packaging can bring ... [including] providing efficient and safe access to essential products in developed and underserved regions of the world," noted Mintel's 2018 packaging reporta.
In light of these challenges, brands are hard at work to ensure packaging is produced responsibly and doesn't end up adding to problems in landfills and waterways.
For instance, in late July, Loop Industries, Inc. announced that it had signed a letter of intent with L'Oréal Group to incorporate Loop PET plastic packaging into its brands. The move allows the beauty giant to effectively "close the loop" on its PET packaging with reportedly "endlessly upcycled" PET.
Loop's technology deconstructs waste PET plastic and polyester fiber from packaging into its base monomers and separates out impurities before reconstructing the monomers into food-grade PET. The program will reportedly prevent waste PET plastic and polyester fiber from ending up in landfills, incinerators and the environment. By the end of this fall, Loop PET will begin to hit store shelves in L'Oréal products.
"As the leader in the beauty industry, we believe we have a responsibility to bring innovative and sustainable solutions to the consumer," said Philippe Thuvien, global head of packaging and development of L'Oréal Group. "That is why we seek to partner with innovative companies and leverage technologies, such as Loop, that will trigger an acceleration in the transition to a circular economy. And Loop PET is able to meet the rigorous packaging standards of L'Oréal."
It's not just the top multinationals that are stepping up. For instance, Biossance has integrated Vertiv's Earth pact paperboard, which comprises 100% renewable sugarcane bagasse fibers that are recyclable and compostable, into its product range. And Nokware Skincare, a Ghana-based online-only startup, has adopted biodegradable, recyclable or repurposed packaging materials such as gourds and jute sacks from cocoa farmers. Its latest innovation is sustainable bamboo packaging.
MAC, of course, is the OG in the packaging sustainability game. It long-ago adopted its Back to MAC packaging recycling program, which asks users to return six old/spent products, including foundation bottles and lipstick tubes, in exchange for a choice of MAC lipsticks. But as green and sustainable concepts have proliferated, brands have had to boost their ethical packaging innovations to stand out from the crowd.
Escalating Certifications for Mass Market
L'Oréal USA's Garnier SkinActive line recently achieved Cradle to Cradle Certified Silver recognition based on an evaluation of material health and reutilization, renewable energy and carbon management, water stewardship and social fairness practices—a first in mass market skin care. Four of the five products in the line achieved Platinum status for material health, and all five products achieved Gold status for material reutilization. The company previously garnered Cradle to Cradle certifications for select Biolage and Kiehl's products.
The certified products include Garnier SkinActive Deep Pore Facial Cleanser with Green Tea, Refreshing Facial Cleanser with Aloe Juice, Soothing Cleansing Milk with Rose Water, Deep Pore Exfoliating Face Scrub with Green Tea and Refreshing Cream Cleanser with Aloe Juice.
Packaging comprised a significant factor in the certifications. L'Oréal USA's Franklin, New Jersey facility, which produces all of the products in question, reduces water usage via an optimized vessel cleaning system. In addition, the packaging for the Deep Pore Exfoliating Face Scrub with Green Tea is made from 50% post-consumer recycled (PCR) plastic, while the packaging of all three of Garnier's certified cleansers are made from 30% PCR plastic.
"We know our consumers value sustainability and to us that means demonstrating sustainability leadership across the value chain, from formulation to manufacturing to renewable resources to social fairness," says Danielle Azoulay, head of CSR and sustainability for L'Oréal USA.
A 2022 Pledge
Unilever's Kate Somerville brand recently pledged to adopt 100% recyclable packaging by 2022. The brand cited the 150 million tons of packaging that is designed for one-time use and the 8 million tons that end up in oceans each year.
The brand is partnering with Plastic Oceans, a non-profit focused on plastic waste in the water, to remove plastic packaging from all of its kits, which currently comprise 50% plastic. Kate Somerville Skin Health Clinic will also reduce non-essential single use plastic and eliminate plastics at the brand's head office. To achieve this, the brand will adopt alternative materials, PCR and render packaging recyclable.
Reinventing Packaging Design Norms
L'Oréal's Seed Phytonutrients comprises packaging "designed to have 'as little impact on the earth as possible,'" according to chairman and CEO Jean-Paul Agon. The products are packaged in paper that is shower-friendly and can be recycled or composted, according to the company.
The shower-friendly paper bottle comprises 100% PCR paper with earth minerals and a food-grade PCR plastic liner. No glue is used—instead, an interlocking design was adopted—and the plastic pouch is as thin as is structurally possible—reportedly 60% thinner compared to conventional bottles—to reduce waste. These technical innovations improve transportability of the finished products, according to the brand, which is focused on continuous improvements to get to zero waste.
Eco-connected
Eco-conscious beauty need not eschew technology. For instance, Yuni Beauty—well-known for its eco-friendly practices—has incorporated Thinfilm's near-field communication (NFC) technology to support mobile marketing to connect with consumers and drive in-store sales, according to the supplier. The NFC technology is paired with cloud-based software to deliver custom digital experiences to shoppers, and drive in-store conversions at the point of sale.
The packaging has been applied initially only to Yuni's Shower Sheets, Chillax Muscle Recovery Gel and a new launch, Yunicorn. The SKUs were rolled out at Nordstrom, Anthropologie, Bluemercury, Dillard's, Navy Exchange, Sephora.com, Amazon and other retailers.
When tapped with a smartphone either in-store on the go or at home, consumers can access unique digital experiences such as Yuni's brand story and how-to usage and application videos.
"Yuni is very much a niche brand today, but the company—and our loyal customer base—is growing quite quickly," said Emmanuel Rey, Yuni Beauty's co-founder and CEO. "We needed a new way to connect with consumers on their terms, to tell the Yuni story and share our products."
3 Recent Eco Packaging Upgrades
Suppliers are getting into the game as well.
1. Eco Pencils
Wooden pencils can be an eco-friendly product format, but typically lack the air-tight qualities required by high-tech formulations. Recently, Schwan Cosmetics introduced its Perfect pencil, which can support challenging high-tech formulations for the eyes, lips and brows.
"For the first time in the history of wooden cosmetic pencils, we are able to put high performing formulas in wood, enabling a creamy and gliding application combined with a new level of lastingness up to 24 hours," says Dagmar Chlosta, chief market officer at Schwan Cosmetics.
She adds, "This concept addresses a dramatically growing worldwide consumer demand for conscious, eco-friendly products and packaging that does not compromise on performance, quality and product safety … [T]he millennials are a very conscious generation, and as a beauty manufacturer, we have to provide them with packaging options that are in line with their beliefs in a sustainable planet."
2. Aluminum and Glass Alternative
Velox GmbH and SK Chemicals Co. Ltd. have produced Ecozen HF, a plastic packaging solution for aerosol containers and cosmetic bottles. The bio-copolyester range is produced from renewable feedstocks and is suitable for aluminum, glass and PET replacement "wherever heat and pressure resistance combined with transparency is required."
Ecozen HF has PET-like processing requirements and can be used in the same injection-stretch blow molding process. It is also fully miscible with PET in the recycling stream, according to the firms. Unlike PET, Ecozen HF can reportedly perform in high- temperature and pressure applications such as aerosol bottles. The material has high transparency and is resistant to pressure and stress cracking.
As a glass replacer, it can lower transportation costs and be used for hot-fill containers without undergoing a heat-setting process, as with PET.
3. Responsible Customization
"Consumer pressure for marketers to reduce the amount of plastic that enters the waste stream has never been greater," says David Gray, director of business development for Be Green Packaging. "However, CPG companies, still have to be able to protect and differentiate their products in a competitive retail environment."
To that end, Be Green Packaging has developed a blend of renewable natural fibers for trays, inserts and other custom personal care packaging solutions that can be molded into cylinders, curves, compartments and many other shapes with straight, no-slant sidewalls.
The molded fiber trays feature a soft-to-the-touch surface that can be rendered in any Pantone color to maximize branding and visual impact. The molded pulp surface can also accommodate silk screen and laser inkjet printing, or a label. The packaging is produced in the United States and China and is compostable, recyclable and biodegradable.
a"Global Packaging Trends 2018"; www.mintel.com/global-packaging-trends/