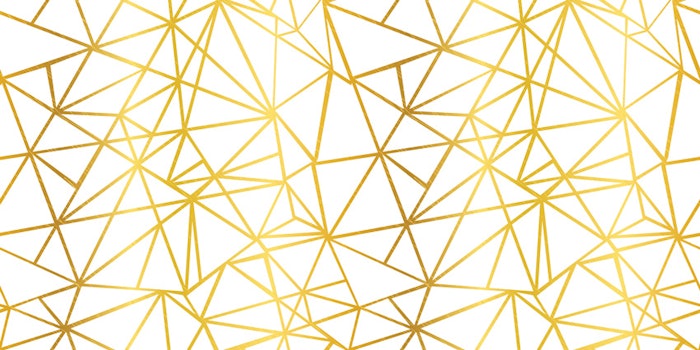 Visiting a trio of shows in quick succession—MakeUp in NY, ADF&PCD New York and Luxe Pack Monaco—unveiled a wide range of trends across products, formulations and packaging. Here, we round up some of the top highlights.
The Many Sustainable Packaging Pathways
During Luxe Pack Monaco, one packaging executive remarked that the beauty industry is still pulling in two directions—toward maximalist, blingy designs on one hand and toward eco-friendly and responsibly sourced packaging on the other. In both instances, the brands are seeking to minimize or eliminate trade-offs between functionality and design.
A case in point was the Luxe Pack Monaco In Green awards honoring innovators in the sustainability space, including packaging design and responsible initiatives within organizations.
Edelmann Group took home the honor for packaging solutions for its Less is More minimalist folding carton. Eastman won the initiative category for its circular economy system (see Page DM1 of your digital magazine; www.gcimagazine.com/DM). Finally, Estal won a special judges prize for its Real-Cycled glass.
Among the eco-packaging designs offered at Luxe Pack and other events, PCR, refillable, bio-based and recyclable concepts offered brands multiple strategies for improving their impact on the planet.
HCP Unveils EcoWood
Coinciding with Luxe Pack Monaco, HCP introduced its Eco Lab group, which focuses on the reduce, reuse and recycle elements of sustainable design, materials and processes. The company is working to leverage sustainable materials such as FSC paper for caps and outer parts on palettes, lip gloss and twist-up sticks; PCR resins such as ABS, PE, PP and PET; and the company's EcoWood, an FSC-certified bio-based plastic containing Finnish reforestation-derived wood fiber, cellulose and vegetal waxes.
EcoWood, available in bio-based recyclable or industrially compostable grades, offers a material that is not grown in competition with food crops. In addition, the innovation supports traditional molding methods but with lower energy usage due to a reduced material melting temperature. EcoWood features chemical resistance (testing is being carried out in numerous categories, per HCP) and a carbon footprint that is neutral to negative over the lifecycle of a packaging, according to the company.
Some grades are FDA-compatible. EcoWood packs can be decorated with UV lacquer, silkscreen inks or foils. The pack itself can be designed to resemble wood fiber or plastic with transparency and high shine.
HCP's Eco Lab group considers the lifecycle of a package, as well as associated emissions and energy consumption in production. It is also focused on refill concepts (magnetic, clip-in and slide-in inserts) and no-pin plastic hinges to boost sustainability without sacrificing aesthetics and functionality.
To assess progress, HCP is participating in the Carbon Disclosure Project; in 2018, the company achieved a Level B rating, which is reportedly two levels above average. In 2019, HCP was awarded the Silver CSR rating by Ecovadis, which is bestowed upon companies ranking in the top 30% of the program participants.
Expanded PCR Range with 80-plus Colors
During Luxe Pack Monaco, Silgan Dispensing presented its expanded range of PCR product offerings in the midst of rising sustainability demands (materials, disposal/reuse) and brand requirements aesthetics, ergonomics and performance.
New launches include the P2000, a dispenser with the firm's Pure Path metal-free fluid path for sensitive formulas, and the Aria Prelude pump dispenser, which offers clean, controlled product experience for the consumer. Previous PCR launches have included the SD 20c pump and the Mark VII Max fine mist sprayer. In addition, the company has established local in-region manufacturing to minimize shipping distance to improve both speed and sustainability profiles.
To support aesthetics, Silgan has introduced more than 80 colors for its PCR offerings. John Ferro, VP of marketing for the company, noted that the grayness of PCR has limited its application, particularly for brands not seeking to appear overtly sustainable. Some clients leverage PCR claims on-pack or in marketing, while others use PCR initiatives to fuel overall CSR goals. Larger brands may test PCR in sub-brands to gauge effectiveness and operate on a scale commensurate with the current supply.
Ferro also noted that brands want to ensure the quality of PCR sourcing to ensure materials are REACH-compliant. Looking ahead, he explained that the innovation and technology around mechanical plastics recycling and the improved removal of contaminants from waste streams will improve the quality and volume of available PCR—a benefit for aesthetics and pricepoint.
The company has also introduced the refillable/recyclable Melodie Pirouette sprayer, which allows consumers to separate the pump from a glass fragrance bottle for refill or recycling.
Carton-based Cosmetic Tube
Following the close of Luxe Pack Monaco, Albéa announced a collaboration with L'Oréal for the creation of a carton-based cosmetic tube. According to an official announcement, bio-based paper-like material largely replaces plastic in the design. The companies will assess the design's ecological benefits via a "multi-criteria Life Cycle Analysis." The carton-based tube is expected to enter industrial production in 2020.
Philippe Thuvien, VP of packaging and development of L'Oréal, said, "L'Oréal is committed to improving the environmental or social profile of 100% of its packaging by end 2020. This innovative, alternative solution is an integral part of the Group's packaging strategy."
Albéa has also developed the Greenleaf all-plastic laminate tube, an Association of Plastic Recyclers-compliant (APR), recycling-ready solution for personal care, oral care and OTC products. The APR designation signals that the packaging is compatible with existing HDPE bottle recycling streams. Greenleaf tubes can be manufactured in the company's American, European and Asian industrial facilities.
The design reportedly features a smaller environmental impact compared to standard aluminum structures, while its light barrier web protects formulations. This, paired with a PE cap can make the design stand up without secondary packaging.
As a member of the New Plastics Economy Global Commitment from the Ellen McArthur Foundation, Albéa is reportedly committed to rendering 100% of its packaging recyclable or reusable by 2025, as well as reducing plastic usage where relevant and including PCR resins where possible.
Beauty Manufacturing Gets an Upgrade
In the age of sustainability, the indie brand boom and trade wars, manufacturers have strategically expanded operations to address the changing beauty industry.
Want to read the full article? Check out Global Cosmetic Industry's November 2019 digital magazine.