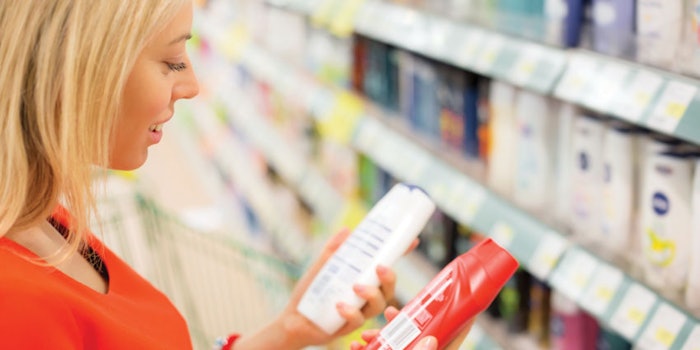 Imagine that you're in a store and a product on the shelf catches your eye. You want to learn more. When you tap the product with your smartphone, you receive all kinds of personalized content on your phone: the brand story, product news, ingredient information, video tutorials. It's as though the product has come alive and is anticipating all your questions, delivering relevant and dynamic content as you are making your purchase decision.
That reality is here, thanks to smart innovations, including NFC (near field communication) tags, which transform conventional packaging into an ever-present digital communication channel with customers, wirelessly transmitting information at the point of sale, and continuing to deliver customized benefits (refill reminders, freshness alerts, usage tips) long after purchase—especially for beauty products that are used daily.
In addition, connected packaging collects consumer habits, behavior and other data, providing brands with new levels of intimacy that may be applied to future product development.
"Intelligent" Products
Smart packaging is defined as packaging that has active functions beyond just containing and protecting the product. "At a high level, smart packaging is essentially a conversation between people, brand and objects," according to Moor Insights & Strategya, a leading high-tech analyst firm. With smart packaging, form becomes a part of function. Products are no longer inert, they become "interactive, aware and intelligent," delivering sensory experiences, added functionality and enhanced consumer engagement.
Not surprisingly, the global smart packaging market is poised to grow rapidly, reaching $52 billion by 2025 (including personal care, beauty, food, healthcare and pharmaceutical industries), according to a report published by Research and Markets.b
The internet of things (IoT) is also growing fast. By 2020, more than 50 billion objects will be connected to the internet, according to Cisco, the high-tech multinational that specializes in networking hardware. Brands will be better able to personalize their communications to customers and, in turn, people will increasingly expect brands to preempt their needs.
Here are some examples of how smart packaging innovations are transforming the beauty brand experience.
Tapping into Differentiation
Companies such as ThinFilm believe that NFC will become a critical technology in connecting everyday items that don't have electronic components or batteries directly to consumers.
"Tapping products with a smartphone will become more common over time until it is second nature," said Bill Cummings, senior vice president of corporate communications at ThinFilm Electronics, a Norwegian company that manufactures the smartphone-readable NFC tags that are integrated within packaging for tapping in-store, on-the-go and during the consumption phase. "Brands are able to deliver authentication messages, promotional offers, repurchase alerts, and other contextual content that strengthens relationships, builds brand loyalty and drives sales."
He added, "In discussions we've had with cosmetics/beauty companies, from leading global firms to smaller boutique brands, we hear there are two key needs: first, because competition is so intense and there's a major battle for a consumer's attention and wallet, brands need a way to better connect with customers and differentiate their offering."
Second, particularly for many of the larger brands, counterfeiting is often a major concern and costs the industry billions of dollars globally each year, not to mention the impact on consumer confidence. Our NFC technology, supported by cloud-based software and tag integrations services, is uniquely positioned to help brands of all sizes successfully address these issues."
"Brands are able to deliver authentication messages, promotional offers, repurchase alerts, and other contextual content that strengthens relationships, builds brand loyalty and drives sales."
Recently, E Ink Holdings partnered with Texen on a customizable packaging display concept for makeup compacts, perfume bottles and other cosmetic packaging. Powered by NFC, the display can be updated by smartphone.
The E Ink and Texen partnership will allow consumers to brand their makeup compacts and perfume bottles, or write personal messages to gift recipients. For brands, the system can leverage product-phone connectivity to deliver targeted marketing. And the E Ink display modules can deliver information on specific beauty treatments based on weather conditions or other factors.
Invisible Interactivity
Beauty products may be transformed into connected devices with conductive ink, also known as TouchCode technology, said to be the next generation of the QR code.
The transparent ink works by embedding a thin layer of capacitive material in printed items like labels or product packaging. When the paper is held up to a touchscreen, it acts like invisible fingers activating a TouchCode-enabled app or website. Consumers are able to access information and learn how to achieve a desired look.
This was especially appealing to millennials, who are drawn to interactive and personalized experiences.
In 2015, Smashbox, a brand noted for its heritage in makeup artistry, engaged consumers through the innovative use of conductive ink technology with its ShapeMatters Palette. The kit of eyeshadows and face powders included three video-interactive Get the Look Cards "to make contouring easy for your face, eye and brow shape."
By touching the card to their phone, users were connected to Smashbox.com/ShapeMattersPalette, where they could view instructional demo videos, with easy-to-follow techniques from makeup artists. This was especially appealing to millennials, who are drawn to interactive and personalized experiences.
Monitoring Beauty Tech
La Roche-Posay launched its My UV Patch in 2016, a stretchable sensor that is thinner than human hair, as pliable as a temporary tattoo and worn on the skin to monitor UV exposure. Developed by L'Oreal's technology incubator in conjunction with healthcare technology company MC10, My UV Patch contains photosensitive dyes that gauge baseline skin tone and change color when exposed to UV rays.
Wearers can take a photo of their patch and upload it to a smartphone app. The app will then analyze the photosensitive dye squares on the patch to determine whether the user should apply more sunscreen or leave the sun altogether.
Following the launch of La Roche-Posay's My UV patch, forward-thinking brands will increasingly be linking packaging and product concepts with smartphones, creating connected beauty experiences.
Packaging Gets Active
Active packaging allows for the safeguarding of products with fewer preservatives such as parabens, in keeping with the drive for more natural cosmetics. The technology embeds preservatives within the packaging, rather than the formulation, creating a reservoir of preservatives.
Acticospack, a European consortium of companies, has been working on active packaging technology to reduce the use of cosmetic preservatives by 25–40% in applications such as shampoo, skin creams and sun care, while extending product shelf life and monitoring freshness. The group's packaging uses a controlled release of preservatives to remain below threshold level in the product.
This is just the tip of the iceberg for smart packaging. Consumer engagement with brands via packaging will become the norm as smart technologies continue to evolve.
___________________________
Laura Ziv is a creative brand strategist specializing in beauty, fragrance and personal care. Her work spans trend analysis, innovation, ideation and concept development for brands. Ziv has a Master of Arts from Oxford University, and previously worked as a magazine writer and editor for international magazines based in New York.
Footnotes:
awww.moorinsightsstrategy.com
bwww.researchandmarkets.com