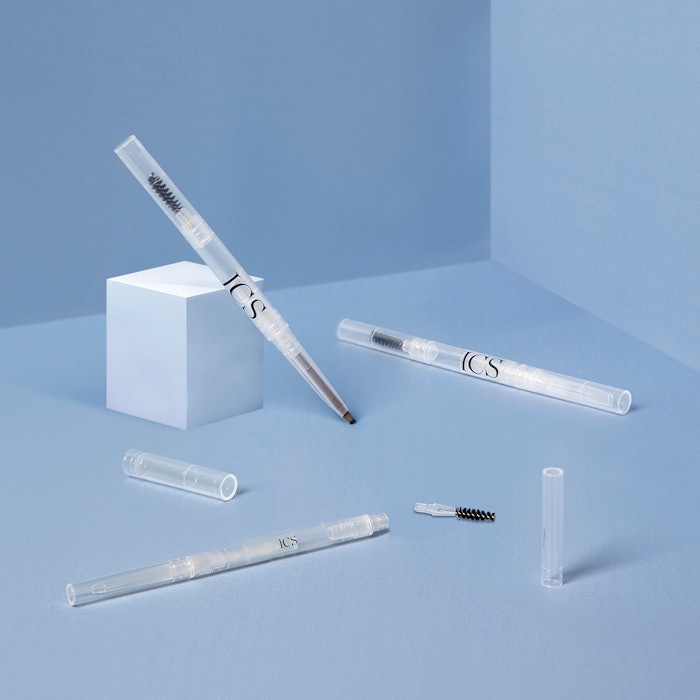 To complement the ever growing color cosmetic space, Global Cosmetic Industry spoke with industry insiders on recent packaging launches in the industry.
Mono-material
Dana Peterson, director of marketing and communications, International Cosmetic Suppliers, says, "ICS recently introduced our innovative mono-material PP slim retractable brow pencil with removable applicator, a game changer in sustainable packaging that we believe launches duo end brow pencils into the mono-material, easy-to-recycle stratosphere. With the increased demand for more easy-to-recycle products and environmentally-friendly materials, the trend for mono-material products is on the rise, yet recyclability has remained a challenge for duo end pencils with built in applicators since these traditionally contain multiple materials and as a result can't be easily disassembled and recycled by the end consumer. However, our ICS mono-material PP slim retractable brow pencil with removable applicator makes recycling easy; simply remove the applicator piece and pop the rest of the mono-material PP pencil in the recycling bin. A combination of innovation, sustainability and beauty, the versatile pencil is also available with a variety of brush, comb and sponge applicator styles."
Maurizio Ficcadenti, global R&D manager, Baralan, says, "Baralan's Sifter 70 Series is a line of sifters for glass jars. Offered in two different styles, the series was developed as the ideal accessory for powdered skin care and makeup products. Featuring a modern style with a matte surface finish, the new sifters are available in two varieties—an adjustable two-part sifter and a standard one-part sifter."
For the full article, check out Global Cosmetic Industry's July/August 2022 digital magazine.