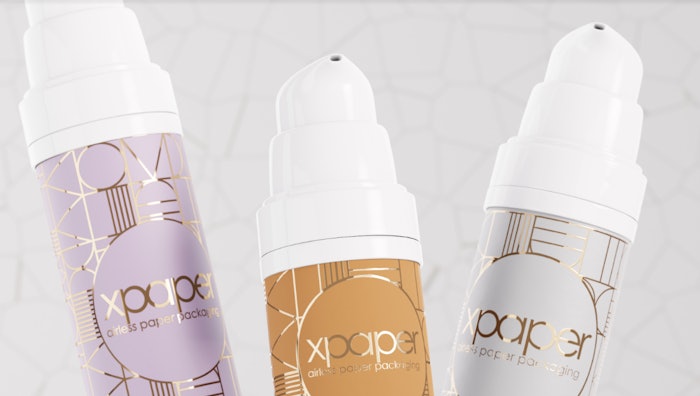 Lumson has launched XPaper, paper airless packaging with a multi-layer pouch that protects formulas from contamination. The design allows for the packaging's plastic components to be separated from the paper components to simplify recycling and material recovery once a product is finished.
The paper bottle is about 50% lighter than an equivalent PET bottle and uses 47% less plastic and reduces CO2 emissions by 34%. There is also a 92% reduction in the use of resources, minerals and metals. This comparison is according to a SPICE analysis comparing a 50 ml XPaper bottle with a Lumson PET bottle of the same size.
XPaper packaging can be personalized with offset printing (up to 6 colors) and hot stamping effects.
The packaging was developed in partnership with Politecnico di Milano Foundation and the technical and scientific support of Professor Luigi De Nardo's research group in the Department of Chemistry, Materials and Chemical Engineering.
"Cosmetic companies aiming to reduce plastic use in their products by replacing it with paper-based solutions now have a new solution available," said De Nardo. "XPaper represents a new piece in the development of a comprehensive and sustainable strategy for cosmetic packaging. Each functional element of the packaging has been designed to meet product requirements and promote post-consumer recycling. In particular, the paper bottles are made using certified paper from sustainable sources and fully meet the structural requirements for product containment. They are also easily taken apart for recycling with paper and cardboard."