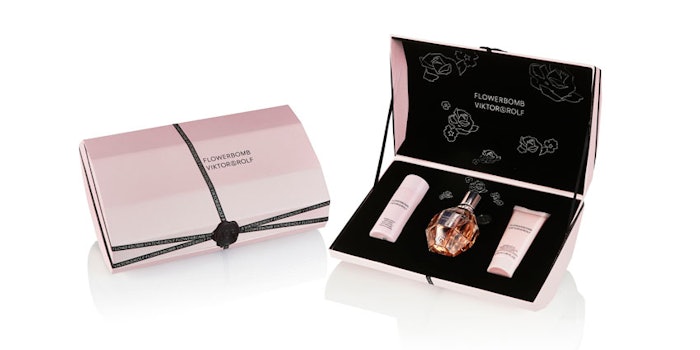 Cosfibel Premium has announced its collaboration with Viktor & Rolf on the packaging for three of the fashion brand's fragrances, Bonbon, Bloom and Flowerbomb. 
Cosfibel explains it created the spring-themed coffrets to hold the scent bottle, a shower gel and a body milk. 
The Details
Each coffret has silver hot-stamped internal decor;
The cardboard base and paper hinge are held in place by two grosgrain ribbons;
The scent bottle, shower gel and body milk are held in place by a transparent PET molded over-chock;
The ribbon decor displays the brand and fragrance name; 
The Bonbon coffret displays candy motifs on the lid's inner lining; and
The Flowerbomb and Bloom coffrets are covered in pink coated paper with a pearlescent varnish.