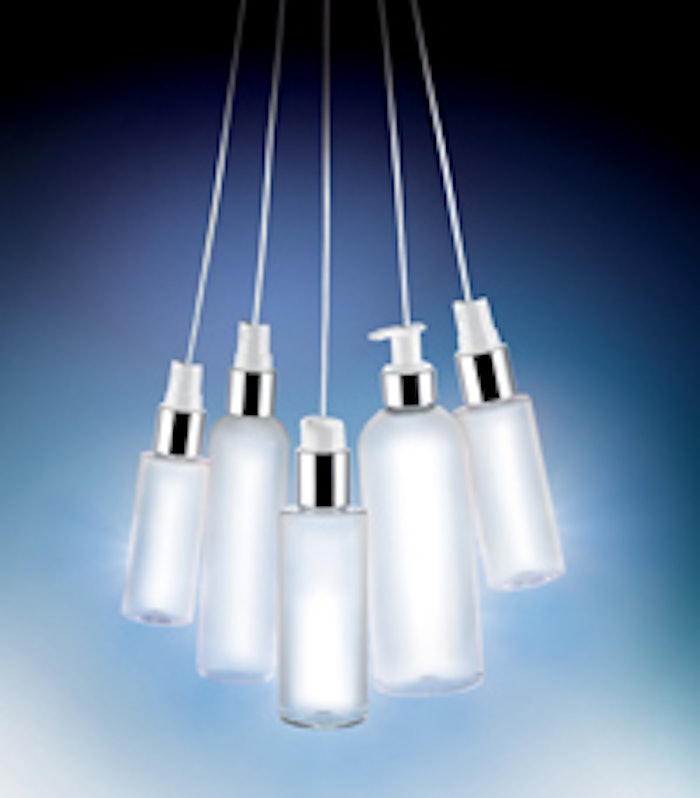 Quadpack acquired Technotraf, a Spain-based manufacturer of wooden components for beauty packaging. And in a strategic move that gives the company its first manufacturing capability, Quadpack will direct Technotraf's efforts toward expanding the market category. Technotraf sources all its raw material from PEFC-certified sustainable forests and processes it at its 10,000-square-meter production facilities. Equipped with woodturning and computer-numerical controlled milling machines, it manufactures bespoke fragrance caps, jar caps, bottle caps, boxes and powder compacts that complement makeup, perfumery and cosmetics packaging.
Mega Airless announced plans for a new production site in Villingen, Germany. The creation of the 15,000-square-meter facility is a direct result of increasing worldwide demand for the company's airless dispensing solutions, and the new site will handle production for the company's cosmetic and pharmaceutical customers, including molding, assembly, logistics and decoration.
CCL Industries signed a binding agreement to build a new plastic tube manufacturing and decorating plant in Bangkok, Thailand, in partnership with Taisei Kako Co., Ltd., a Japanese producer of specialty plastic containers for the personal care and pharmaceutical markets headquartered in Osaka. Between them, the partners will invest a total of $5 million in equity to start the joint venture with initial capacity provided through equipment transfers from existing CCL and Taisei Kako tube operations. The partners will each own 50% of the new company, and the venture helps CCL further extend its products into the Asian market.
Cosmogen signed a partnership with the France-based Flavia Palmeira Makeup School, with the purpose of continuing the development of professional, masstige and mass brush ranges showing innovation through new fibers and handle decoration. The new products will be systematically tested by the school to show pick up and lay down of application and benefits of use before marketing.
New Launches
In answer to the growing demand for PET bottles and jars from beauty brands, Promens extended its standard range to include four new complete standard ranges of bottles in PET, complementing the Promens PE and PP global ranges. The new packaging offerings have a clear, glass-like gloss finish, but with the advantage of being tough and resilient. They are available in standard cylindrical or oval shapes, and they are well suited to mass market and premium beauty products.
Toly Korea launched its new T15 airless jar. Ideal for creams with active ingredients as it ensures the formula has no exposure to air, the jar also helps to maintain the freshness of the product, prevents finger contamination, and is leak proof, making it much more portable. With a hinged lid, the T15 airless jar is available in 30 and 50 ml sizes, and through special decoration and coating techniques, it can be personalized to customer specifications.
M&H Plastics added the new PET Belize bottle to its portfolio of products. The 25 ml bottle, which takes a screw-on cap, is a curved shape and manufactured in PET to help offer great product clarity. The bottle's gently curved shape is suitable for a wide range of market sectors, and its 25 ml size means it would make an ideal samples, travel or hotel amenities pack.
Plas-Pak Industry's 6B23 (3 ml by 3 ml) dual syringe is now ready for customer sampling, testing and approval. The new 6B23 syringe can be used with a variety of low cost static mixers for convenient meter-mix and the dispensing of plural components, and it is available in ultra-clear polypropylene, opaque polyethylene or nylon material for the best chemical resistance, with custom colors also available. The patented uni-molded plunger rod offers molded in place barrel air vents that allow precise insertion, auto deaeration and highly automated filling operations, and the snap-off tip closure is molded in place with a reusable cap for a secure performance.
New on the Shelves
Carol's Daughter developed a new repairing lotion for hair care and dressed it up in Aptar's Eden airless package. With a chocolate brown actuator, transparent barrel, and gold label, Carol's Daughter delivers its Monoi Repairing Split End Sealer treatment in an easy-to-use package that offers smooth and precise dispensing. The Eden pack is recognized for its gentle and smooth actuation while providing the user with steady control over the dosage. It also is 100% recyclable and is created with fewer parts than standard airless dispensers.
Pochet du Courval created a new set of bottles for the Jour d'Hermès fragrance from Hermès. Requiring 42 blueprints and 21 sampling tests, the bottles come in five formats—7.5, 12.5, 30, 50 and 85 ml—and Pochet du Courval worked to develop an accurate adjustment for the bottles' weight so the thickness of the glass matched the luxury and balanced proportion of the fragrance throughout the range. Inverse-reading silkscreen plays with the optics of luminous and crystalline glass, adding a graceful final touch to the bottles.
Solev developed packaging for the 100 ml limited edition of L'Air du Temps by Nina Ricci. Deep blue trim underscores and accentuates the natural motion inspired by the shape with reflections arriving from all sides and text engraved on the base in keeping with the tone. The metallic glints are achieved by vacuum-deposited aluminum covered with colored, protective varnish, fine cut with high-precision lasers.
People News
Oystar USA hired John W. Panaseny as the company's new president. A 25-year packaging industry veteran with an impressive track record for fomenting sales growth, Panaseny joins the company to build upon its successes in the North American market. In his new role, Panaseny will spearhead North American business and market development across the multiple industries served by Oystar USA, overseeing everything from team building and sales goal-setting to strategic partnerships and company visibility at packaging industry conferences and events.
The New Jersey Packaging Executives Club (NJPEC) announced new board members, with the officers on the 2013 leadership board including Susan Weinstock of Johnson & Johnson as president; Howie Greenberg of Allstate Paper Box Company as vice president; John Ziemba of Aquarian, LLC as secretary; and Jenna Smith of Smith Design Associates as treasurer. NJPEC also announced its annual Scholarship & Hall of Fame Dinner on May 2, 2013. Honorees at the dinner will include Al Osti of L'Oreal; Edmond Zaccone of Sources & Resources; Dennis J. Anderson of HCT Packaging; Charles M. Huck of MPR Associates; and Jack Gonzales, the retired founder of HBA. NJPEC will also recognize students who represent the future of packaging and is offering three scholarship programs for college students.