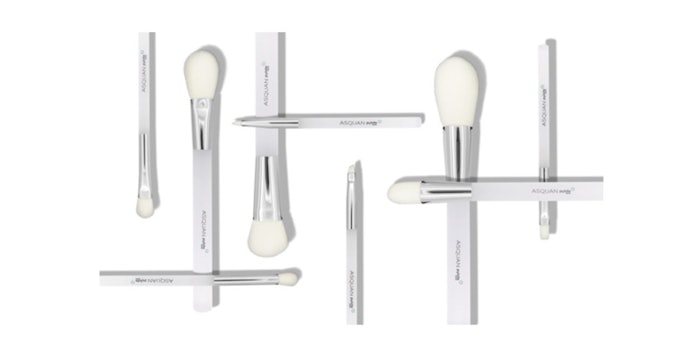 Pylote and Asquan have announced the launch of a range of hygienic and antimicrobial cosmetic products with "an unprecedented level of safety and hygiene as yet unseen in the market."
The companies have partnered to create a makeup brush that integrates Pylote's natural antimicrobial protection technology, which has successfully tested against coronaviruses. Testing is currently underway on the partnership's other cosmetic tools, including mascaras, eyeliners, lip liners and skin care applicators.
According to the companies, the brushes and other tools would not require typical maintenance and disinfecting during their entire period of use, which brings tremendous benefit and peace of mind to the consumer while reducing the ecological footprint.
The Pylote technology's effectiveness on coronaviruses was studied in May 2020 through an independent laboratory (Fondation pour le Développement et la Recherche Pharmaceutique) with a COFRAC (Comité français d'accréditation) certification, according to the requirements of the JIS Z 2801 standard adapted for human coronavirus strain 229E.
Surfaces activated by Pylote technology were compared to control surfaces of the same nature but without the technology.
The results showed a logarithmic reduction in the viral load on the surfaces of 3.9 log after 24 hours, corresponding to disappearance of almost 99.99%* of the infectious virions.
*1 log = 90% of viruses destroyed - 2 log = 99% - 3 log = 99.9% - 4 log = 99.99%