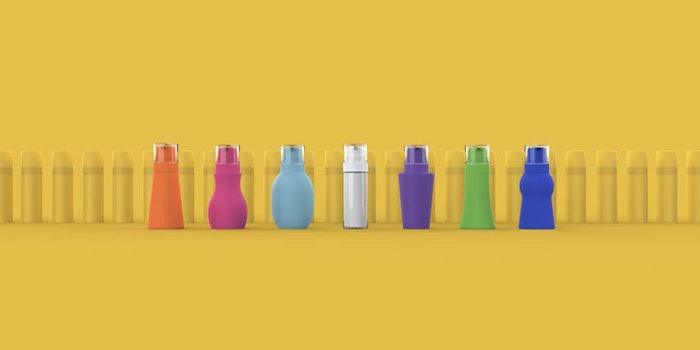 Quadpack has launched its latest airless product—Canvas Airless—allowing increased customization while using 15% less plastic.
Related: Quadpack Partners with LM for Asia Expansion
Airless packaging protects formulas from external contamination, while increasing shelf life. The pumps can be used at any 360° angle while actuating the bulk with minimal waste.
Canvas Airless is a bi-injected, two-layer, pouch-based pack that uses Quadpack's bag-in-bottle blow molding technology for customizable shapes. Quadpack claims the product uses 15% less plastic than piston airless equivalents.
The packaging can be made with a choice of materials. The QLine range comes with an LLDPE pouch and PET outer bottle as standard, both recyclable materials.
Current outer options include rPET and PETG, while inner options include DuPont's Surlyn. Quadpack plans to release further sustainable materials, a metal-free pump and refill formats in the future.
Quadpack Canvas Airless will be commercially available from January 2022.
Quadpack's head of market development, Pierre-Antoine Henry, says, "Canvas Airless provides a blank canvas for creative design. With one mold for infinite shapes, it enables greater freedom of expression. Brands can choose oval, square, convex, concave and other forms–and all without additional outlay or time delay. It sets the new standard in airless packaging, offering accessible added value, along with all the benefits of airless technology."