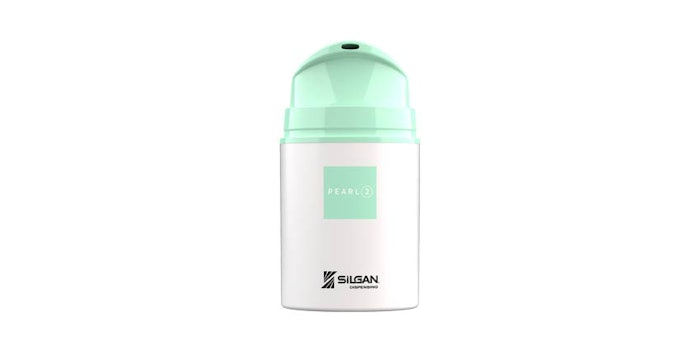 Silgan Dispensing has premiered its next generation of airless systems—Pearl 2— at Luxe Pack Monaco 2021. The packaging is said to deliver all the benefits of standard airless systems while also offering materials designed for recyclability, broader technical capabilities and a new e-commerce design.
Related: Silgan Dispensing Attains ISCC Plus Certification
Pearl 2 uses Silgan Dispensing's LifeCycle Technology—a plastic spring that enables the removal of non-recyclable materials and metal—to produce a dispenser made from a single polyolefin.
According to the company, Pearl 2 has been certified by RecyClass to not have a negative impact on current European-colored containers recycling. Its design and overcap also pass third-party e-commerce testing protocols.
Silgan Dispensing says it will also be showcasing additions to its post-consumer recycled portfolio, including refillable and recyclable glass fragrance bottles through its Pirouette technology.
Guillaume de Demandolx, vice president of fragrance and beauty for Silgan Dispensing, says, "Pearl 2 was designed with our customers' needs in mind. Our focus in developing the product was on three key areas: sustainability, e-commerce, and improved performance. Sustainability continues to be a top expectation when it comes to packaging and was our first priority.  Finding solutions that do not disrupt today's recycling streams without sacrificing quality and performance is often elusive. Today's recycling infrastructure has challenges in sorting the small round packages typical in beauty products, so we focused on designing Pearl 2 with the right mix of materials compatible with the recycling stream."