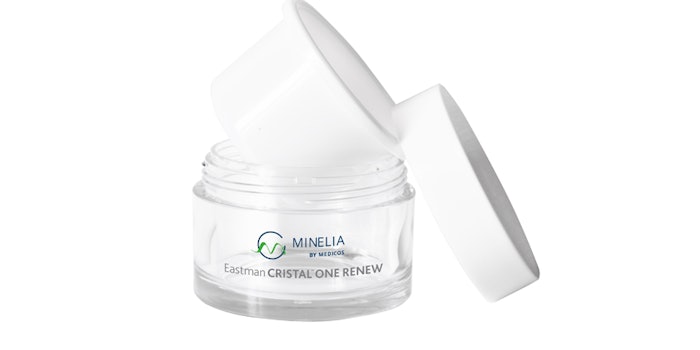 Medicos Beauty has added jars made with Eastman Cristal One Renew to its Minelia packaging range.
The new resin enables the Minelia packaging to meet three key sustainability criteria: certified recycled content, recyclability in the PET stream and reusability.
Eastman Cristal One Renew reportedly provides the same transparency and thick-wall processing capabilities as Eastman's traditional copolyesters, while also maintaining the resin identification code 1(RIC1) designation for recyclability, and the durability needed for refillable and reusable packaging.
The molecular recycled content is backed by the International Sustainability & Carbon Certification (ISCC PLUS); the Eastman Cristal One Renew resins and Medicos carry ISCC PLUS certification. This process ensures traceability of recycled content. 
Medicos Beauty's Minelia line features range of sustainable resins, including mechanically recycled, biobased and now molecular-recycled. 
Cédric Marmonier, president of the Medicos Group, said: "Unlike mechanically recycled materials, the Eastman Renew resins allow us to meet the requirements of our customers who are looking for packaging that is both recycled and recyclable while maintaining food contact and a higher level of clarity."