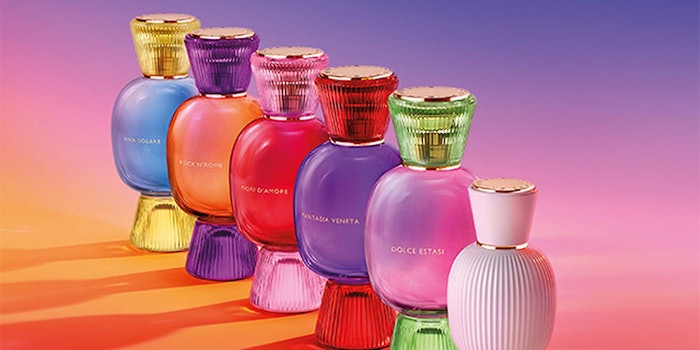 Verescence has manufactured bottles and caps for Bvlgari Allegra's new High Perfumery collection.
Previously: Illuminaire by Verescence
The 40 ml bottles, made in France, are inspired by a Roman amphora. They feature rounded lines reminiscent of the smooth surface of Bvlgari's cabochon gemstone cut. The faceted cap and base nod to Roman columns.
Each bottle has an opaque glossy white lacquer with a porcelain effect. The brand name and its essences are written in gold hot stamping on the base of the bottle.
The glass cap is designed to be fully recyclable. 
Samuel Joachim, director of innovation at Verescence Group, said: "This is the result of a successful collaboration between Bvlgari and Verescence teams to achieve such a result. We are particularly proud of the bottle and cap designed and produced in a single operation, without cutting or polishing step, a sign of genuine technical prowess,"