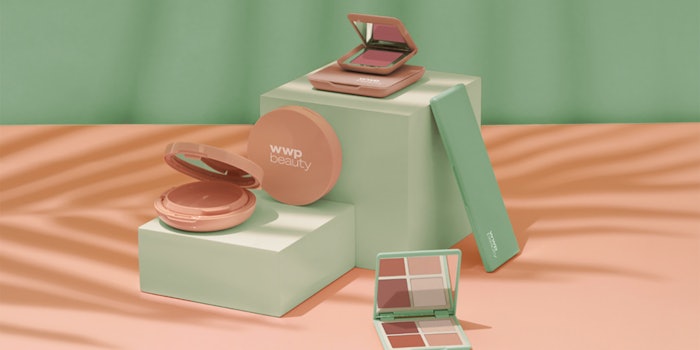 WWP Beauty is launching two new sustainable stock packaging collections, the Cutsie Green Collection and the Mindful Collection, in honor of Earth Day 2021.
Related: Inside WWP Beauty x Scentinvent's Essence Collection
The Cutsie Green Collection is made up of sleekly designed cosmetic packaging options that include eyeshadow compacts, face and cheek compacts, a cushion compact, and a slimline lipstick and lipgloss package.
Each component in the Cutsie Green Collection is made with PCR materials on the cover base and platform; these compacts are 25-30% slimmer than a compact of a similar size, per WWP. This reduces the use of virgin materials and creates a smaller carbon footprint during the development and shipment process.
The Mindful Collection features mono-material compositions and light-weighting to offer different sustainability attributes. The range combines these strategies, creating products that have an impactful recyclability story, as well as use less plastic.
This collection is made up of PCR compacts; a PCR, POM-free airtight lipstick and lip crayon; PCR face stick; mono-material bio-PE (sugarcane) tubes that use up to 19% of plastic per piece; and a PCR powder jar with sifter.
Michael Tognetti, chairman of the WWP Beauty sustainability committee, said, "At WWP
Beauty, we know that the path to sustainability looks different for every brand. For this
reason we strive to create options for our customers that utilize eco-friendly materials and
future-focused design strategies. All of our sustainable innovations are backed by data with validated sustainability claims generated using our Eco Analyzer Tool."