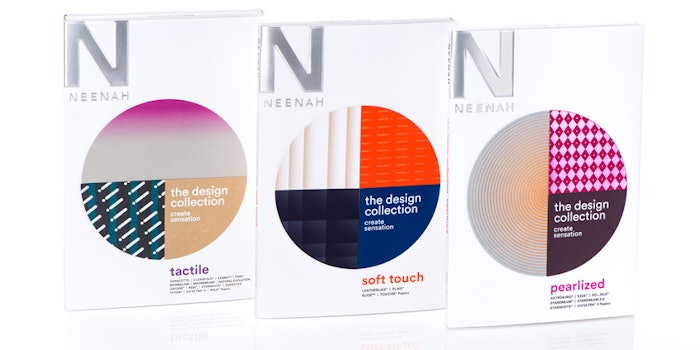 Neenah has announced the refresh of The Design Collection, including new brands, colors and a re-imagined three-part portfolio: Tactile, Soft Touch and Pearlized.
According to Neenah, The Design Collection is an international portfolio of 22 brands, 100+ colors and 15+ textures, inspired by Italy's top fashion houses and America's leading designers. 
The revamped collection includes:
Stardream 2.0 Papers: Five sparkling new colors have been added to the Pearlized portfolio, including 

Eris, Pluto, Neptune, Saturn and Venus.

Leatherlike Papers: A new soft-touch paper line available in "

a natural-looking white, a chocolaty brown and a deep black."

Reef Papers: These papers are highly tactile with the feel of fine sand and are available in a beachy white and midnight sky black. 
Auburne Gahlman, brand manager at Neenah, said, "With so many items now in The Design Collection, it became necessary to completely reimagine the way the papers were presented to the market. We brought Design Army on board to help us think through possibilities. Their charge was to create a pathway to enable designers to more quickly and intuitively experience this growing range of papers."
Pum Lefebure, co-founder and chief creative officer, Design Army, added, "When you design something that's three-dimensional, you're designing it to be touched. As with fashion or interior design, where the material is often the first source of inspiration, the papers in The Design Collection are meant to create a sensation, to infuse feeling into the printed piece."