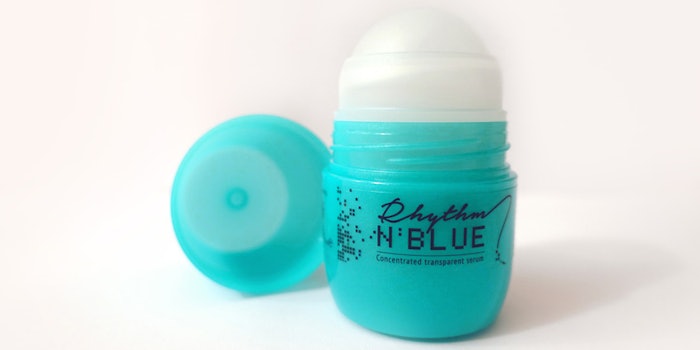 Clariant has announced the launch of its new skin serum packaged in a roll-on format.
The demonstration project, Rhythm N'Blue, will be offered as a gift to customers, guest and visitors of selected tradeshows. The gift made its debut at Luxe Pack Monaco. 

The Details
The project came together with the help of two Clariant business units and four industry partners. The four outside partners included Merck KGaA, who provided a special-effect pigment; Biogei Cosmetics S.r.l, who provided the Rhythm N'Blue serum; induPlast s.p.a, who supplied the roll-on container; and D-Fusion who created the project's label and website.
During the formulation process, Clariant Active Ingredients provided several ingredients, including: 
Nipaguard EHP, a broad-spectrum antimicrobial agent for cosmetics and toiletries;
Aristoflex Silk, a thickener/texturizer used for a sensory experience; and
Active ingredients like B-Circadin, a skin resynchronizer; Fuligo, which is meant to increase skin density and firmness; and MultiEx BSASM, a skin-soothing agent.
Alessandro Pozzati, industrial designer, Clariant ColorWorks, said, "Creating an item that we can use to promote our ColorForward trend analysis and color forecasting tool is an essential challenge every year. This year, a collaboration between two Clariant businesses was the perfect idea. Our personal-care gift highlights not only ColorForward but also the cosmetic ingredients that the Personal Ca regroup markets.
For 2019, the ColorForward trend, "Made in Human," focuses on humanity's struggles in an increasingly technological world. This theme was reportedly the catalyst for the project. 
Katya Spera, sales manager, personal care in Italy for Clariant's Industrial and Consumer Specialties, explained, "It seemed to be the perfect match with a restorative serum, called Rhythm N'Blue, that is offered by Clariant Active Ingredients to repair skin that has been damaged by stress, fatigue, pollution and the effects of blue light exposure. One of the colors representing the Made in Human trend, is a soft, soothing turquoise blue called 'Keep Wonder Alive.' We decided to use that color for the packaging, and we selected a roll-on so that the application of the facial product would be a little like a massage."