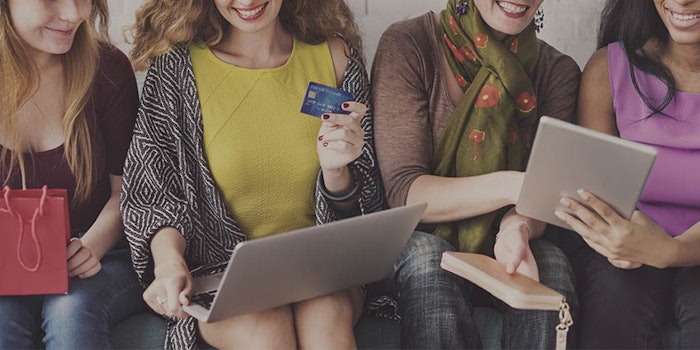 If you're looking to have the most popular packaging on the block, it's best to go for streamlined, informative and recyclable. Oh, and steer clear of the three Bs: big, bulky and boring.
This according to the study Packaging and the Digital Shopper: Meeting Expectations in Health & Beauty. Pantone, Esko, X-Rite, AVT and Danaher teamed up to ask the segment's consumers what they buy online, what they like (and dislike) when it comes to packaging, and what they want to see more of in the future.
The random sampling of 3,000 responses was obtained via an online survey administered in North America, Western Europe and Asia; respondents were 52% female, 48% male, and reflected 2016 U.S. Census data in terms of age. Here's what they had to say.
Most health and beauty shoppers buy products specifically from hygienic categories including bath, hair care and oral care. The top five categories those surveyed purchased in the last three months:
Bath products (soap, body wash), 69%
Hair care (shampoo, conditioner), 69%
Oral care (toothpaste, floss), 66%
Deodorant and antiperspirant, 58%
Face and lip care, 55%
Despite the fact that you can't smell before you buy, fragrance jumped up to fourth on the list of online purchases. Over the last three months, those surveyed had purchased the following items online:
Bath products (soap, body wash), 7%
Hair care (shampoo, conditioner), 7%
Oral care (toothpaste, floss), 6%
Fragrance, 6%
Feminine products, 5%
The top reasons for purchasing health, beauty or personal care products online included a better price (53%), avoiding lines and queues at the store (31%) and local availability (31%)
Brands customers were the most loyal to including Dove, L'Oréal, Pantene, Maybelline and Colgate
Preferences
Shoppers agree that they trust the brand at a slightly higher rate than they agree that they trust the ingredients on the package
When it comes to sustainability, 68% of shoppers agree that they feel as though they are making an impact when they recycle packaging, though only 46% enjoy repurposing the packaging
When asked which items have packaging that is fun and engaging, respondents cited fragrance (90%), lipstick (90%) and face and lip and skin care (88%)
On the other end of the spectrum, cough, cold & flu (38%), sleep aids (37%) and weight loss (34%) products were regarded as having the most frustrating product packaging
Shoppers like beautiful, recyclable, simple and colorful packaging; descriptors including modern, minimal, cool and easy were also used
Conversely, shoppers dislike ugly, bulky, wasteful and large packaging
Shampoo was frequently cited as having fun and engaging packaging
What do shoppers want to see on their packaging? Ingredient, expiration and lot numbers, the touch/feel of the product and its size/weight
28% of respondents had made an in-store purchase of a new product over the last three months because they enjoyed the packaging
21% had taken a photo of a product, and 10% had taken a selfie with it
60% of shoppers agree or strongly agree that a product should have the same packaging in-store as it does online, and 46% expect the image of the product they buy online to be exactly the same as what is delivered
One out of three shoppers had reported they had returned, exchanged or asked for a refund for a health, beauty or personal care product purchased online because of the packaging specifically; the product most online shopper reported to return was fragrance
Reasons for returning online purchases due to packaging include a damaged product (34%), wrong product purchased (30%) and believing the product was counterfeit (12%)
Looking Forward
In the future, shoppers would like to see product personalized for their skin/body type (63%) and product with personalized instructions for their own needs or use case (51%); however, 62% of shoppers are uninterested in products personalized with their name
Those surveyed say they would definitely use their smartphones for a discount code (60%)
45% of shoppers would definitely use their smartphones to authenticate health, beauty and personal care products, and 40% would like to learn where the ingredients came from with their phones