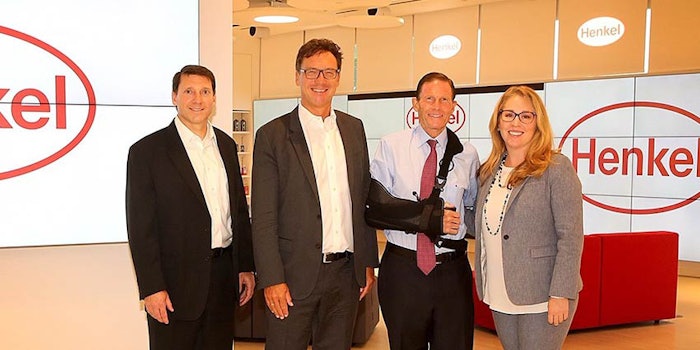 U.S. Sen. Richard Blumenthal of Connecticut paid a visit to the Henkel Corporation's North American consumer goods headquarters in Stamford.
Company leadership provided the senator with a tour of the Henkel Experience Center, sharing examples of the organization's sustainability commitments and product packaging solutions that contribute to the circular economy for plastics. Among them: a partnership with Plastic Bank, a social enterprise dedicated to reducing ocan plastic and providing opportunities for people in poverty, and founding membership in the global Alliance to End Plastic Waste.
Additionally, the company has teamed up with TerraCycle and How2Recycle to make it easier for customers and consumers to recycle its products locally.
Sen. Blumenthal also held an open forum Q&A session with Henkel employees from its Stamford, Darien and Trumbull locations.
"Our employees appreciated the opportunity to have a Q&A with Senator Blumenthal to learn more about his work in Washington, D.C. on behalf of residents of our state," said Heather Wallace, Henkel senior vice president and general manager, beauty care North America. "We were pleased to host the Senator at our new Henkel Experience Center, a collaboration center that was created because we know that only together – with our customers, consumers and business partners – we can create and bring to life sustainable innovations that contribute to a more beautiful world."
"Henkel's efforts towards sustainable solutions for our environment are a model for other companies," said Blumenthal. "Their leadership and commitment to continued innovation and increased use of recyclable materials sets a strong example of how business and communities can collaborate for long-term positive impact. I am proud of their commitment to the environment and their hardworking, dedicated Connecticut employees."