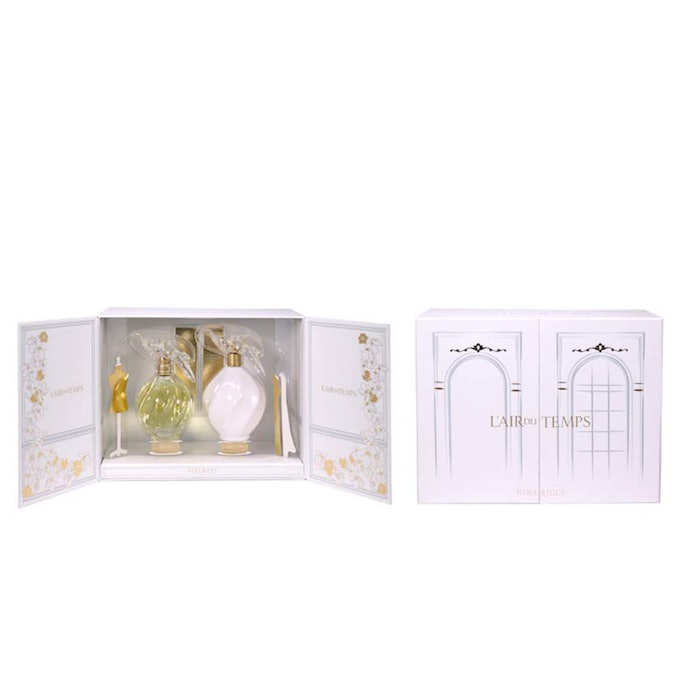 Packaging: Custom Mother's Day coffret
Company: Cosfibel
Description: In minute detail, Cosfibel has recreated a couture sewing studio design in a special Mother's Day coffret for Nina Ricci. With its two flaps, which are held closed by magnets, the front of the coffret opens like a theater. Inside, the bottles appear to be sitting on bobbins of golden thread, and the décor shows a mannequin and scattered reels of fabric. Both outside and within, the coffret is covered with white coated paper printed with metallic gray ink and hot stamped with gold. The brand name features on the front and the top of the box. On its back, beautiful sketches of the fragrance's stylized bottle are also realized using hot stamping.
The insides of the doors are decorated with L'Air du Temps' emblematic floral designs, and the name of the fragrance features in the center. At the back of the coffret, a golden window is framed in gray, adding to the elegance of the ensemble. The décor features a thermoformed chock made of crystal APET that, taking advantage of the depth of the coffret, holds the products centrally, as if they were floating above their bobbin stage.
Gold and white elements of the décor are realized through laser cutting and fixed with EVA foam to give a 3D effect. In the background, two golden shutters highlight the setting. The coffret is available in several different versions.