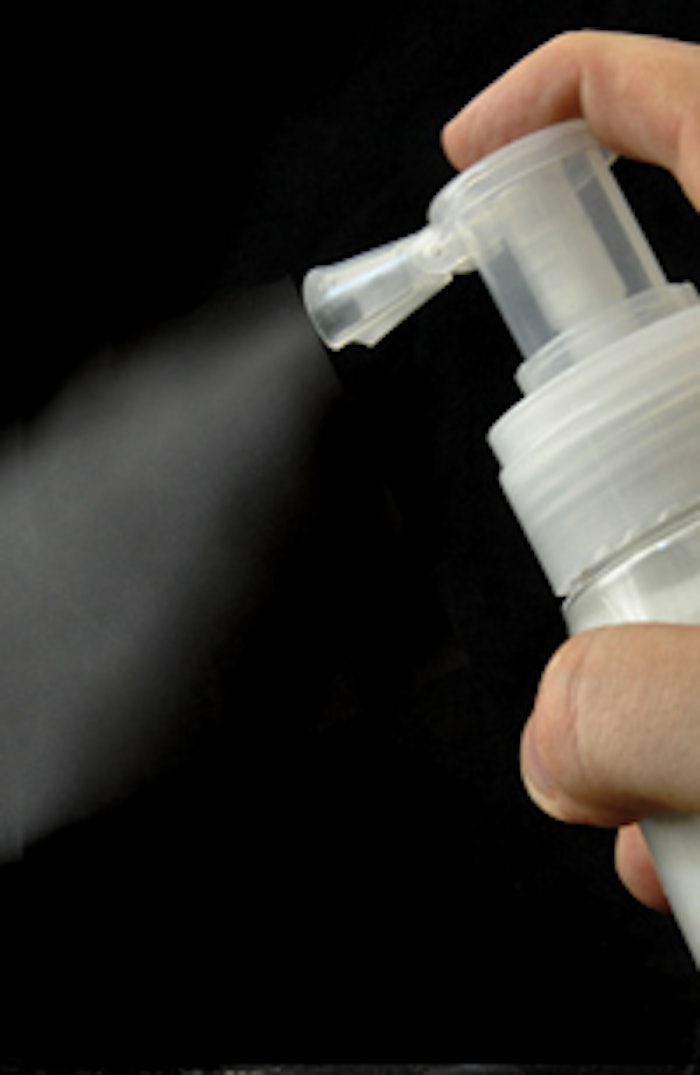 Alpha Packaging qualified six new injection blow molded high density polyethylene (HDPE) packers as part of its new HDPE Pharma line.
Over 65 delegates from leading cosmetics companies attended the first Quadpack Master Class in Barcelona. The three-hour seminar offered in-depth knowledge on packaging materials and decoration techniques, aiming to bring more technical information and expertise to those on a management and executive level. The seminar took delegates step by step through the various packaging materials, revealing issues such as compatibility and barrier properties, while covering decoration techniques from hot-stamping to laser etching.
According to Mega Airless, a confluence of economic, demographic and technological factors is accelerating development of new-generation hair care products and convincing brand owners to opt for the performance, precision and protection of packs such as the company's German-engineered, airless packaging solutions.
New Launches
Pacific Packaging Components introduced its new Powder Sprayer. This innovative powder sprayer evacuates various densities of powder formulas and allows the consumer to "spray" them on for a variety of applications. The powder sprayer is ideal for beauty and personal care applications such as baby powder and anti-fungal skin or wound treatments. The design has strong vacuum action to evacuate the powder and a no-clog nozzle, which doubles as a locking feature to prevent the actuator from being depressed when the nozzle is in the locked position.
DuPont Packaging Graphics is taking a new approach and reaching a broader audience to raise awareness about its new DuPont Cyrel Performance Plates for flexible package printing. The new plates are specifically designed to deliver stronger shelf impact, vibrant colors and global brand consistency to benefit brand managers representing CPG companies worldwide. Because flexographic printing with the new plates is additionally associated with speed, productivity and sustainability, CPGs can also expect faster turnaround times, more cost-effective package printing, and help meeting green manufacturing guidelines. DuPont Cyrel Performance Plates can be used to achieve exceptional print quality for CPGs in a range of applications including flexible packaging, tags and labels, and carrier bags. They can reduce the environmental impact of printing and enable improvements in productivity as well, from improving press up-time to reducing start-up waste.
New on the Shelves
The new Pond's Luminous Clean Cream Cleanser is dispensed through a soft frost 2" Classic ULT Tube Top closure from Aptar Beauty + Home, while the company provided a glossy black WS25 accessory topper for Living Proof's Style Lab Flex Shaping Hairspray. Additionally, Aptar Beauty + Home's S18 inverted mousse accessory is used as a top for the Pink So Fresh 2-in-1 Shower and Shave Wash from Victoria's Secret, and an Aptar Beauty + Home provided a stylish metal shelled GS dispensing pump for Victoria Secret's Pink So Fresh Body Lotion.
The anti-aging range Premier Cru from Caudalie uses the TAG System, patented and manufactured in Italy by Lumson, to protect and maintain the formula in its 50 ml Crème and 15 ml La Crème Riche products, relying on the pack's ability to combine the beauty of glass with the technical advantages of an airless system. Lumson developed a new version of TAG System, called Deluxe, in order to make the packaging even more elegant and refined. This new luxurious range has a thicker glass base and walls to add additional brilliance to the pack. Caudalie used the inner glass lacquering in a gold metallized effect to create a lights/shadow effect on the packaging, and the bottle is completed with a metallized silver pump, a transparent overcap and a simple but elegant, minimalistic design manufactured in ceramic screen printing in white and silver finishes.
Urban Decay worked with HCT Group to develop the Urban Decay Build Your Own Palette. With six exclusive eyeshadows, the tin palette allows users to fully customize the kit with different shades. HCT Group collaborated with Urban Decay to create both the palette and single eyeshadows, which have been redesigned to allow the well to easily pop out by a simple push from the base. HCT also updated the original eyeshadow packaging, manufacturing an exclusive design that allows the wells to be removed and inserted into the tin palette, giving the customer endless possibilities to create a variety of looks in a pick-n-mix style.
Dr.Teal's announced a new exclusive partnership with Velcro. The popular 6 lb. bags of Dr. Teal's Epsom Salt Soaking Solution will utilize the new Velcro Brand Pres-Lok closure system, an upgrade that is simple to use, provides a clean seal for storage and helps prevent spills. The waterproof material repels moisture and preserves the freshness of the Epsom Salt between uses.
The new line of Rouge for Lips & Cheeks from beauty brand Artdeco utilizes a compact from Corpack's new Allegra color line. The makeup product is set off against the backdrop of the shiny, UV-black compact, and the modern, subtly tweaked design makes this compact stand out from other designs. It's character is timeless and yet versatile.
People News
Technical Help in Engineering and Marketing (T.H.E.M.) announced three additions to its leadership team. The new vice president of business development is Tom Martin, while Steve Strom will head machine sales, and Eric Hawley was named the company's senior technical services manager.