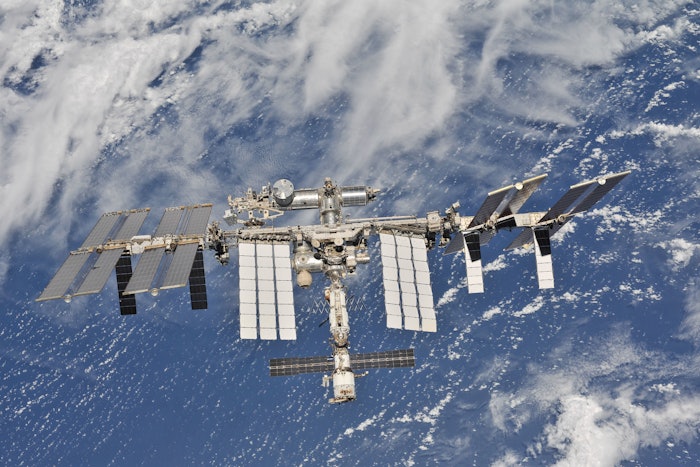 Estée Lauder will fund the winning projects from the International Space Station (ISS) National Laboratory's Sustainability Challenge: Beyond Plastics competition, which advances sustainability research on the space station that addresses the worldwide plastic waste dilemma.
The ISS National Laboratory selected Dr. Stephen Meckler of the Palo Alto Research Center and Dr. Katrina Knauer of the National Renewable Energy Laboratory and the BOTTLE Consortium as the winners of the competition. They will conduct their sustainable plastics research projects on the orbiting space station, taking advantage of the unique space-based environment to develop, test or mature their products and processes.
Meckler's project seeks to improve the performance of lightweight, porous aerogels to capture and remove carbon dioxide from the air. Producing the aerogel materials in the space station's microgravity environment will allow the research team to study how the network of pores that make up the aerogel structure form in the absence of effects from gravity-driven convection and sedimentation.
This information and the resulting pore structure may lead to better uniformity in the aerogels and higher carbon dioxide capture rates. Captured carbon dioxide could be used to replace oil as the polymer feedstock to produce plastics.
Knauer's project aims to determine whether space radiation and microgravity influence the behavior of specific bacteria strains that break down plastics and produce polymer building blocks.
The resulting process could be used in mixed-plastic recycling consisting of many different types of plastic. The project may also reveal new recycling mechanisms that could allow difficult-to-recycle plastics to be upcycled or made into materials of even higher value than the original plastics.
Estée Lauder says it partnered with the ISS National Laboratory to fund these projects because it aligns with the company's long-term sustainability goals. Estée Lauder has specifically set ambitious targets for itself in the area of sustainable packaging:
By 2025, 75%-100% of  Estée Lauder's packaging will be recyclable, refillable, reusable, recycled or recoverable by 2025. Since October 2021, about 71% of its packaging has met at least one of these criteria, according to the company.
Increase the amount of post-consumer recycled materials in its packaging by up to 50%.
Eliminate extraneous cartons and paper for its products wherever possible.
Aim to have 100% of its forest-based fiber cartons certified by the Forest Stewardship Council by 2025.
"Building on the visionary work of our namesake founder Estée Lauder, who redefined technology and innovation in beauty, we are championing the next generation of leaders in science to help drive the achievement of our sustainable packaging goals at Estée Lauder and have broad impacts beyond our industry," said Stéphane de La Faverie, group president of The Estée Lauder Companies and global brand president of Estée Lauder.