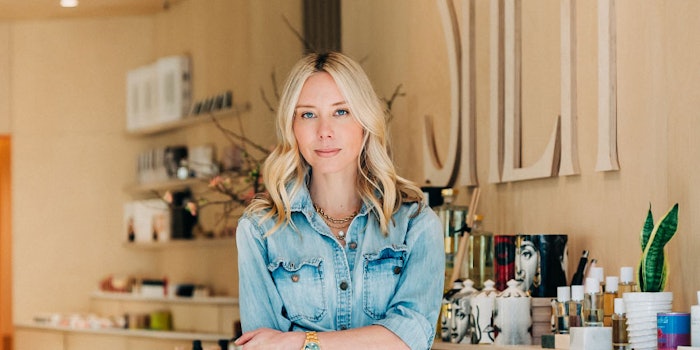 A staple of Brooklyn cool, Shen Beauty started out as a neighborhood haven for unique clean beauty. Over the last decade, it has become a global destination for beauty and fashion insiders, as well as enthusiasts of all kinds. 
"Our customer is a flexitarian," says Jessica Richards, Shen Beauty's founder and owner. 
While Shen was one of the first to offer clean beauty, the reality is that not everyone shops all natural. At Shen, shoppers are not shamed for not being all organic, all the time, particularly as social media has elevated the primacy of product efficacy. 
Report: Cosmetic Retail Planning in the New Normal
"People want what works," says Richards. "Instagram enforced that you can get instant results."  
Since its launch, Shen grew into a hybrid of retail and spa, adding treatments such as a brow chair and facials. 
"Eighty percent of treatment clients leave with product," says Richards. 
I spoke with Richards about how Shen is evolving as lockdown restrictions lift. 
Who is your typical shopper?
Jessica Richards [JR]: The same woman who spends $500 a week on all organic groceries, topped off with a non-organic cup of $5 coffee. It's about doing the best you can. 
Where do customers get their inspiration and information?
[JR]: It used to be [the] media, but it's increasingly becoming Instagram, and it's a shame because people are listening [equally] to people who do [and] don't know anything about beauty. Consumers feel armed and informed but in many cases have a false knowledge.

In the case of Shen's local shoppers, they're coming in and our staff are hyper-personalized in their approach to product recommendations and understanding the needs of the client, whether it be solving their maskne issues to understanding what clean deodorant is best for their body. 
This approach is one of the many reasons we feel so connected to the local community and people are loyal to Shen.
What do you do to try to reach customers?
[JR]: Email and Instagram. We talk to our customers on Instagram, but we don't pay for followers. We have great engagement. It's a neighborhood shop, but we ship globally. Other retailers copy us so we never engage with brands online socially until we're in a committed partnership. 
What 

types of products do customers turn to your store for?

[JR]: Shen is known for launching new trendsetting brands. We love creating newness. I seek brands in the white space, product categories that don't already exist. I try to see a vendor each day and give products to our staff so they can genuinely talk about it.
How do you influence shopping trends?
[JR]: Beauty and fashion insiders come to us first. I love what I do, and it's all about hearing from consumers about how good our products make them feel. Beauty is not vapid, feeling good about yourself is important.
How has COVID-19 changed your business?
[JR]: We sell more online and have a strong digital footprint, which we will continue to invest in over the coming year. Not all of our clients are ready to return to physical retail just yet and we want to continue to connect and service them. 
At the physical store level, we spent more on air filtration and installed more plumbing for stricter sanitation. Our testers are Shen custom painter palettes, which we hand out to our customers upon entering the store with disposable brushes to use as they shop. 
This multi-sensorial experience of touching and smelling product is critical in beauty retail so it was super important we didn't lose that, while still being hyper conscious of health restrictions. 
What do you look for from your brands?
[JR]: I ask less of them now, but the more staff training and incentives they provide, the better it sells. [I'm looking for] the next lightning bolt. I'm open to anything. I'm currently seeking a new color brand that is not widely distributed. Ask me before you send me samples and don't send samples made in a kitchen. We need science-backed products. 
Who do you think are the most influential celebrities on your customers?  
[JR]: Fashion insiders and those with an interest in wellness such as Gwyneth Paltrow, Molly Sims, Karen Elson, Gigi Hadid, Chrissy Teigen and Ulla Johnson.