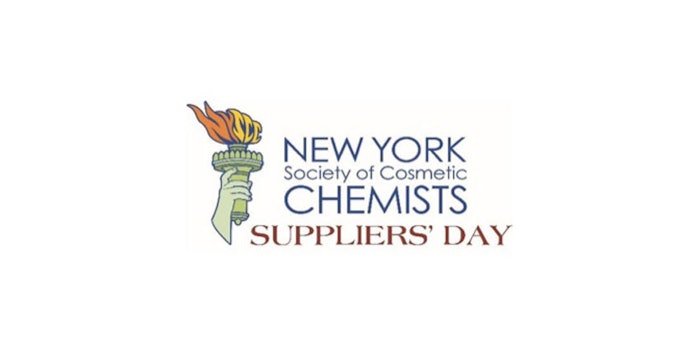 NYSCC Suppliers' Day has opened attendee registration for those wanting to take part in this year's event on May 2-3 at the Jacob K. Javits Convention Center in New York City.
Suppliers' Day 2017 is set to include…
Innovations Alley: Where attendees can browse the latest ingredients, products and technologies that are making their debut at the event.
Future Chemists Workshop: An area devoted to challenge and reward up-and-coming cosmetic students.
Digital Age of Beauty: This section of the event will feature technologies such as 3D printing, virtual reality, data intelligence tools and digital enhancement and filters, that are being used in supply chain innovations and product development.
Marie Thadal, chair/president of the NYSCC executive board, said, "NYSCC members and the chemical ingredients community have been overwhelming positive about the new Javits location in New York City. This May, Suppliers' Day will be a hotbed of activity in beauty and personal care innovations and provide ample networking and business-building."
Beth Mota, marketing manager, North America, Givaudan Active Beauty, stated, "We are very excited to be exhibiting at the Javits Center in New York City this Suppliers' Day. Being in the heart of the city, where beauty comes alive, where trends are created, and where consumers of all ages, demographics, and ethnicities are omnipresent, this show will ignite collaboration for the creation of the successful beauty and personal care products of the future, and we look forward to presenting our latest innovations here."
Steve Weinberg, regional sales manager of Kinetic Technologies, said, "Bringing the industry together, under one roof, for an immersive experience of discovering new products and connecting with peers is what Suppliers' Day is all about. Now being in New York, in one contiguous hall of exhibit space, will make the event even more accessible and conducive to the entire product development teams in the tristate area as well as around the world."
To register to attend and for more information on NYSCC Suppliers' Day including exhibiting and sponsorship information visit:
www.nyscc.org/suppliersday or contact [email protected].