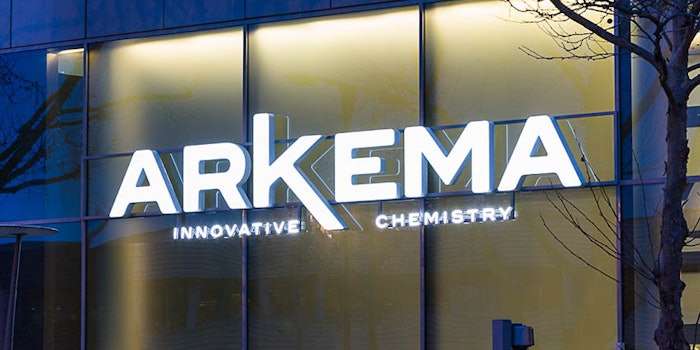 Arkema has released its full-year results for Fiscal 2019, in which the company fell close behind its record year of 2018, while maintaining an ambitious level of investments for future growth.
Previously: Arkema Board Backs CEO Thierry Le Hénaff's Renewal 
€8.7 billion in sales, close to last year's level (€8.8 billion)
€1,457 million EBITDA, comparable (-1.2%) with the 2018 record level, and EBITDA margin of 16.7%, stable at a high level
4Q EBITDA up 3% year on year to €295 million
Adjusted net income of €625 million, representing €8.20 per share
Increase in free cash flow to €667 million, representing an EBITDA to cash conversion rate of 52% (38% in 2018)
Net debt (excluding the hybrid bonds) under control at €1.6 billion, or 1.1x 2019 EBITDA
Further increase in the proposed dividend, up 8% to €2.70 per share, reflecting the company's confidence and potential in its long-term strategy
Arkema's board of directors met in February to approve Arkema's consolidated financial statements for 2019.
In 2020, Arkema aims to achieve an EBITDA comparable with the 2019 level, excluding the impact of COVID-19. For the full year, the Arkema's results should be driven by EBITDA growth of around 10% for Bostik, whilst advanced materials should be broadly stable and Fluorogases should decline.
The contribution between the two halves should be more balanced than last year. Uncertainty persists concerning the evolution of COVID-19. The group estimates its impact on EBITDA at the end of February at around €20 million.
"After a record year in 2018, we experienced a more difficult economic climate in 2019, marked by downturns in some markets, such as the automotive and electronics sectors, as well as a general lack of visibility," Arkema chairman and CEO Thierry Le Hénaff said. "In this context, the group's performance remained at a high level and its resilience compared favorably with the sector average. I would like to sincerely thank all our employees for their efforts and their ongoing commitment."
Hénaff continued, "Beyond those very solid financial results, the group continued its strategy of strengthening its specialty businesses by carrying out high-quality bolt-on acquisitions and capacity increases for high value-added products, and stepping up its innovation drive in high performance materials. The group has also recently defined an ambitious climate plan to contain global warning to well below 2°C."