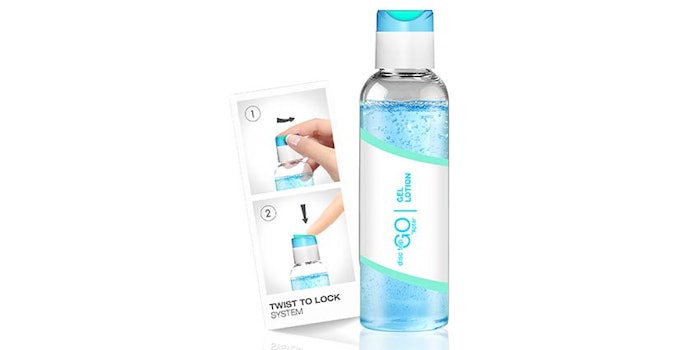 Aptar Beauty + Home is working to create innovative dispensing solutions that address the demands of omni-channel distribution, as well as offer more sustainable options.
Previously: Aptar Expands Black Plastic PCR Closure Offerings
Its e-commerce-capable technologies are in alignment with ISTA-6 testing protocol to help brands avoid chargebacks, unnecessary product returns and costly measures to ensure smooth store-to-door transit of their favorite beauty, personal care and home care products.
Previously: Aptar Expands Packaging Available at Lower Order Quantities
E-Clip is a unique, reusable solution for Aptar's GS dispensing product. It locks the actuator into place by clipping on to the neck of the pump, preventing the actuator from breaking in transit and reducing the possibility of accidental opening.
The E-Clip is available in 100% PCR providing the added benefit of decreasing the use of virgin resin in the supply chain. GS is Aptar's most versatile pump featuring optimal product compatibility, uplocking technology with left or right opening system, and a larger dosage of 1.2 or 2 CC for a multitude of viscosities.
Disc Top Go is a twist-to-lock disc top featuring a three-part design for medium to thick viscosity products that eliminates the need for overwrapping or liners. Simply twist the ring to the left to unlock the cap to dispense, and twist to the ring to lock the lid into place for on-the-go use. Brands can easily customize the closure with a variety of colors.
"Our locally-produced dispensing innovations have two main focuses: how can we make them more sustainable and how can we ensure they fit the needs of omni-channel distribution," Philippe Erhart, president, Beauty + Home, North America, said. "While sustainability is at the core of all internal and external aspects of our business, we've equally identified the need of e-commerce-capable product solutions for our customers and are listed as a member of Amazon's APASS program to address these as quickly as possible. We proudly announce that in February we opened our first on-site ISTA-6 testing facility."