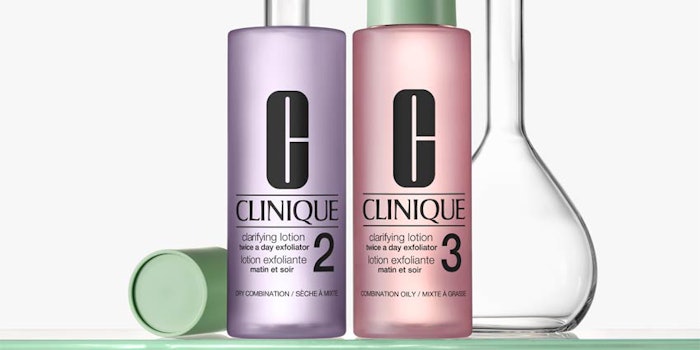 The Estée Lauder Companies (ELC) has announced it is working with Roctool to advance its luxury, sustainable packaging efforts. The first ELC brand to use Roctool's technology on its beauty packaging is Clinique, beginning with its 200 ml Clarifying Lotion.
Related: 3 Sustainable Packaging Trends
ELC claims Roctool's heat and cool technology will eliminate the need for a secondary decoration process in Clinique's bottles, reducing scrap and waste reduction by 10-15%.
Daniel Ramos, senior vice president, global packaging at ELC, says, "At The Estée Lauder Companies, we're continually investing and innovating at every step of our packaging process to help drive more responsible packaging solutions that enable our brands to deliver high-quality, luxury experiences to our consumers. We're working with industry partners like Roctool to help to improve our packaging design. From there, we're leveraging our portfolio of brands to implement these best-internal-in-class practices at scale to be part of the solution and deliver packaging innovations that are better for both our consumers and the planet."
Mathieu Boulanger, CEO, Roctool, says, "When we entered the world of beauty a few years back, we could sense the importance of developing more responsible packaging solutions with our molding technology. Today, we are proud to work with The Estée Lauder Companies and Clinique to support their efforts in innovation and sustainability."