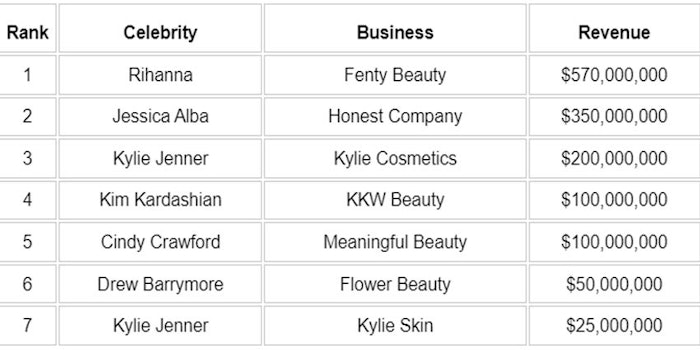 Rihanna's Fenty Beauty is currently the most successful celebrity-backed beauty brand, earning $570 million in revenue every year, according to insights from OLBG.
Related: THG Half Year 2021 Results
Jessica Alba's Honest Company is the second highest-earning, with $350 million yearly revenue. It is followed by Kylie Jenner and Kim Kardashian, whose Kylie Cosmetics and KKW Beauty earn $200 million and $100 million yearly revenue, respectively.
Jenner is the only person with two beauty companies on the list, with Kylie Skin being the seventh highest-earning celebrity-backed beauty brand at $25 million.
Cindy Crawford and Drew Barrymore round out the list with Meaningful Beauty earning $100 million and Flower Beauty earning $50 million, respectively.