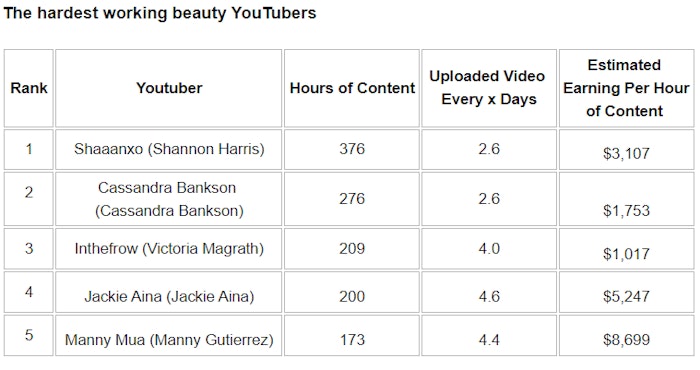 Shaaanxo is producing the most beauty content on YouTube, with 376 hours of content, according to research from Lickd. That is 100 hours more than the second highest producing beauty YouTuber, Cassandra Bankson.
Related: 20 Top Earning Tik Tok Influencers
Shaaanxo (376 hours), Cassandra Bankson (276), Inthefrow (209), Jackie Aina (200) and Manny Mua (173) comprise the Top 5 highest producing beauty YouTubers.
According to Lickd, Shaaanxo earns $3,107 per hour of content. The highest earning beauty influencer in the Top 5 was Manny Mua, who earns $8,699 per hour of content.
Lickd's data was curated in part from YouTube Compare and Influencer Marketing Hub.