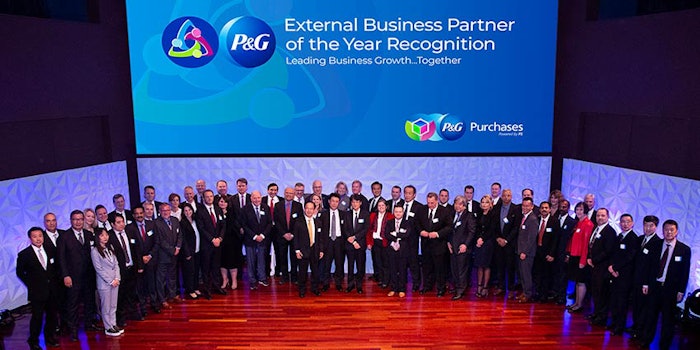 The Procter & Gamble Company (P&G) recognized its top-performing external business partners at an awards ceremony held during its bi-annual External Business Partner Summit.
P&G's supply network includes more than 50,000 suppliers from around the world, including creative agencies, technology partners and material suppliers, among others.
For their contributions during 2018, the company recognized 10 Partners of the Year, along with six other organizations "who made significant contributions to P&G's global supply chain transformation or as diverse, upcoming business partners." An additional 30 companies received the Supplier Excellence Award for sustained business contributions.
Related: Procter & Gamble Q2 2019: What You Need to Know
"We want strong, lasting relationships with our supplier partners," P&G chairman of the board, president and CEO David Taylor said at the awards ceremony. "The stronger our relationships are, the greater the opportunity we have to serve consumers better than anyone else. It's clear that winning today, and in the future, requires seamless collaboration and continually raising the bar together."
The following P&G partners were honored:
Partner of the Year
Catalent Pharma Solutions
ChaseDesign
Dow Chemical
Hayco Manufacturing, Ltd.
Rialto Enterprises Pvt. Ltd.
RKW
Shanghai Morimatsu
Superpac, Inc.
Yamada Electric Ind. Co. Ltd.
YanJan
End to End Synchronization Partner
All4Labels
Nippon Shokubai
Small, Diverse, Emerging Partner
D.Cloostermans-Huwaert
Haoyue
Parkar Communication Pvt Ltd India
Supreme Resources Inc.
Supplier Excellence Awards
Grey
ChaseDesign
Nice
GMR
Starlinke
Ernst & Young
Dow Chemical
Dupont
Hsin Tay Shanghai LTD.
Milliken
Nippon Shokubai
Novozymes
Supreme Resources Inc.
D.Cloostermans-Huwaert
Fameccanica Data S.p.A.
Ronchi Mario S.p.A.
Shanghai Morimatsu
Zahoransky AG
Arkay Packaging
Fibria
Gulsan
Havpak
Hayco Manufacturing, Ltd.
Hi-P
Kleen Test Products Corp.
Nihon Kolmar Co.,Ltd.
Pegas
Rialto Enterprises Pvt. Ltd.
Sandler
Savaré Specialty Adhesives
Superpac, Inc.
Van Genechten Packaging
Yamada Electric Ind. Co. Ltd.
Zobele Group
ZRP Printing Group Limited
YanJan
"I congratulate and thank all of our award winners. They are critical partners in accomplishing our purpose," said Stew Atkinson, Chief Purchasing Officer, P&G. "P&G's supplier eco-systems are creating value for consumers, customers, P&G and our suppliers. I am proud of what we have accomplished, and we will continue to raise the bar on superiority, productivity and citizenship together."