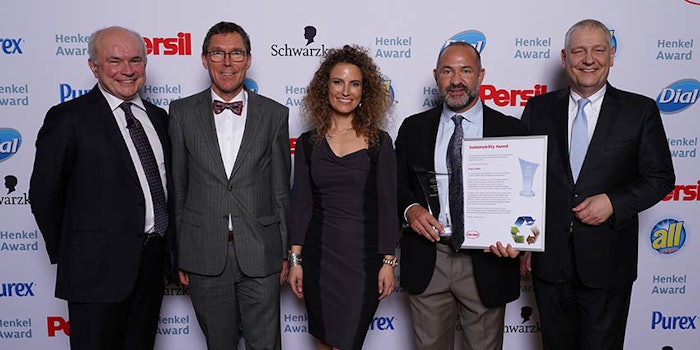 Henkel recognized its top suppliers from around the world at the 2019 American Cleaning Institute (ACI) Annual Meeting and Industry Convention.
The awards, which welcomed more than 200 representatives for more than 30 major suppliers, kicked off with a review of 2018 and recap of Henkel's growth strategy, provided by Thomas Müller-Kirschbaum, corporate senior vice president, R&D laundry & home care.
Sustainability Award (Henkel Beauty Care and Laundry & Home Care joint winner)—Plastic Bank
For the first time, beauty care and laundry & home care jointly presented this award, recognizing Plastic Bank for its novel social plastic model for recycling and waste reduction.
"Plastic Bank and Schwarzkopf have started an initiative to support women's independency in Haiti, allowing them to earn an income from plastic waste collection," said Thomas Förster, corporate vice president, R&D, beauty care. "This has a direct impact on their quality of life and helps them to keep their children in school."
"Our partnership has been running for just one year, and it has already helped us use the recycled material in over 25,000 bottles for detergents and cleaning products," said Müller-Kirschbaum. "This fits in perfectly with our new sustainable packaging strategy, which aims to close the recycling loop."
SNF Floerger received the second prize in beauty care, for a new generation of gel colorations based on its Flocare DP-ES 502 thickener. IFF was recognized for its microplastic-free perfume double-release capsule technology, used in Henkel deodorant products.
Best Innovation Contributor, Beauty Care—Evonik
The company was recognized for its microplastic-free opacifier, a readily biodegradable material based on glycol distearate. The ingredient is used in Henkel beauty care's Fa relaunch as a replacement for polymer materials.
Second prize went to Croda for Venusceane, a deep-sea active with scalp care properties used in certain Schwarzkopf Beology hair care products, and Symrise for the SymOcide PT preservative booster.
Best Supply Performance, Finance/Purchasing—Solvay
Recognizing outstanding supply performance—including operational management, best-in-class services and continued progress in risk management—the award was bestowed upon Solvay. "Solvay excelled in 2018 with top performance in operational supply as well as significantly improved the Ecovadis ranking," said Thomas Holenia, corporate vice president, global purchasing raw materials, Henkel.
Runners-up were Stepan, honored for its proactive risk management during critical market situations and supply bottlenecks; and Symrise, for its efforts towards securing the supply of a critical aroma chemical during a recent shortage.